Variety. Opportunity. Satisfaction.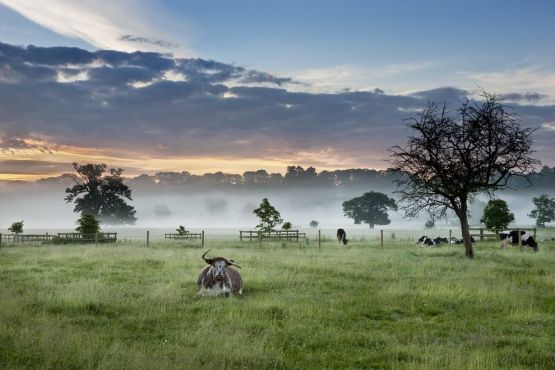 On one hand the National Trust is one of the nation's best known charities and Europe's largest conservation organisation, and on the other it's a large and varied visitor business equivalent to a FTSE 250 company. The diversity of their work and passion for being involved in such an amazing variety of places and spaces are why Jan, General Counsel, and Caroline, Legal Manager, love their work.
Both Jan and Caroline joined the National Trust's legal department having started their careers in private practice. Following a stint working at the Bank of England, Jan moved to the Trust because he saw the role as an opportunity to combine his professional life with his personal passions for history, environmentalism and the great outdoors. "I spent my childhood at National Trust properties with my parents and my brother and as an adult I love trail running, hiking, camping and surfing, so when I saw the opportunity to lead the Trust's legal team, I jumped at it," he explains.
"It was so different to my previous work. What struck me was the passion and commitment of the employees at the National Trust, the breadth of the charity's operations and the variety of the work the legal team does." The National Trust looks after 25,000 hectares of land, over 500 heritage attractions and 780 miles of coastline on behalf of the nation in England, Wales and Northern Ireland. With such a large land and property holding, working with tenants, neighbours, other land-owning organisations and partners forms a large part of the legal support provided to the Trust. However, the breadth of the work done by the legal team is much wider than that: from film or brand licencing contracts one day, to company formation and documentation to support renewable energy projects on another, it really is a varied, challenging and uniquely interesting range of legal work.
Opportunity and ambition
The National Trust has big ambitions for the future. It's developing its presence in urban areas, ramping up its involvement with local communities and providing support for other projects that chime with its core charitable purposes. It's moving into areas focused on meeting the twin challenges of the climate and biodiversity crises, for example, pledging to plant 20 million trees as part of its efforts to become carbon neutral by 2030. All of this means the Trust requires more legal resource and advice as it celebrates its 125th birthday in 2020. Interestingly lawyers have been a central part of the Trust since its creation in 1895, with one of its three original founders, Sir Robert Hunter, being a solicitor. "In response to the success of the Trust, which has grown in terms of its charitable income, operations and members (soon to hit 6 million!), I want to ensure that the team is equipped for the future to help deliver the Trust's ambitious and challenging strategy," explains Jan.
Caroline goes on to reveal what it's really like being a lawyer for the National Trust. "You'll be busy!" she says. "There will be lots of demands on your time, and you'll have to prioritise work between clients, but the advantage is that all your clients are passionate, like-minded colleagues, so you're all working towards the same aims and objectives. It's much more rewarding in that respect as you get to see your work through from start to finish and see how it contributes to something much bigger."
Becoming more well-rounded
It also involves a lot more variety, agree Caroline and Jan. "Intellectual curiosity is required," says Jan. "We're not looking for specialists necessarily , but lawyers who can work across different legal areas and subject matters." Caroline adds: "You'll have to be prepared to upskill yourself in different areas that you wouldn't have contemplated before. You need to be able to get to the root of the problem or issue and present a practical legal solution. The team is very friendly and open, so we share our experiences and best practice and do a lot of learning from each other. Crucially everyone at the Trust wants to be here and be a part of what the charity is all about."
Having joined the team a year ago, Jan is pleased he made the jump to the National Trust. "The Trust protects some of the most special built and natural heritage in the land and makes sure it's accessible to all. I get far more job satisfaction when my team helps a client purchase a small field in Wales or Wiltshire that will be improved for biodiversity or aid carbon sequestration, than I ever did working on multimillion pound finance transactions. We're working for something more than partner profits or shareholder returns! It's all about nature, history and beauty, and ensuring that it can be enjoyed by everyone, forever."
Interested in finding out more about our legal roles? Take a look at the opportunities in more detail, by clicking on the job titles below.