Yasmin: Outdoor apprentice on Community Activator apprenticeship level 2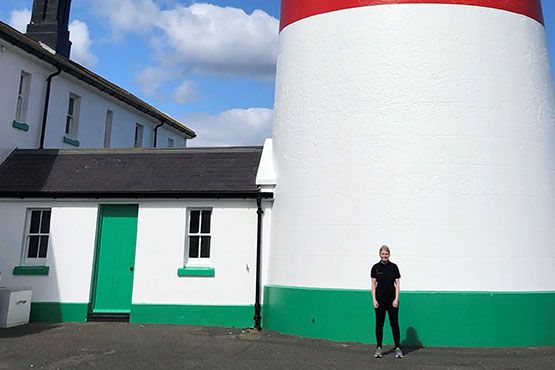 Yasmin was recruited as part of a wider programme that was part funded by donation from Coach Core, the Royal Foundation and Tyne & Wear Sport – this meant she was part of a cohort with a number of other organisations rather than internally so was able to meet and mix with other apprentices across a wide range of organisations. The apprenticeship allowed her to build on the experience she gained whilst volunteering and has helped build her confidence and prepare her for her future career. We hope to be able to offer similar apprenticeships in the future with Coach Cores support, as they widen the programme across England into 2021, as we know how Yasmin enjoyed the apprenticeship and gained so much from the experience.
Why did you first choose to apply for an apprenticeship?
During the summer holidays I volunteered with the Trust after just finishing Sixth Form and not really knowing what I wanted to do next. I helped out with Summer of Sport and really enjoyed it and I was told about the opportunity of an apprenticeship and thought that it would be something that I would really enjoy doing.
Best thing about the apprenticeship?
Not just being stuck doing the same thing day in day out. There's always something different to do and some things I get to do aren't necessarily a requirement of the course, which gives me better experience doing a range of things.
Any challenges?
Being in new environments, it's something out of my comfort zone so it has definitely been a challenge.
Have you done anything that you didn't expect whilst on your apprenticeship?
Yes, there has been a lot of things. An example being, I'd never even heard of Boccia before but got the opportunity to do my Boccia Officiating Level 1 and officiate in a Boccia tournament, and I loved it. Now it's something I'm looking to get more experience coaching in.
How has the training provider/college supported you?
They have put on webinars throughout lockdown with different people such as the NBA and UK Coaching, which have been very interesting. We also have education days where we learn content for our visits as well as learning games which we can use in our coaching sessions.
What are your plans for the future?
At the moment I want to finish the apprenticeship and get the most out of it as possible while continuing to enjoy working.
Any advice for anyone thinking of doing an apprenticeship?
Have an open mind. You get to do a lot of different things and you have to just go for it and try it out as it builds experience, and that way you can also learn more about what you like and dislike.