Sam: from joinery apprentice to Building Supervisor in Specialist Crafts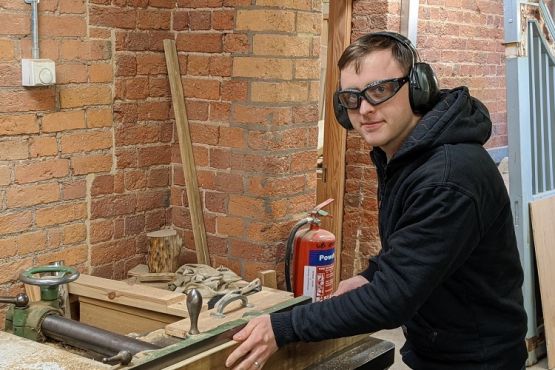 Sam joined us straight from school nine years ago and has worked his way up from joinery apprentice to the Building Supervisor role at our Specialist Craft Centre in Clumber Park and is keen to share his skills and develop others, just as he was supported through his own apprenticeship when he started.
Why did you first choose to apply for an apprenticeship?
During the last two years of secondary school, I was given the chance to visit a woodworking class at a local college. Within the first few weeks I knew this was what I wanted to do as a career and subsequently began looking into apprenticeships.
What apprenticeship (s) did you complete?
I have completed Bench Joinery Levels 1-3, Wood Machining Levels 2-3, and Heritage Skills Level 3.
What was the best thing about the apprenticeship?
I have really enjoyed being part of a variety of different projects, from building punts to roof repairs to manufacturing doors and windows in the workshop. I have also enjoyed visiting a wide range of National Trust Properties throughout the Midlands and exploring behind the scenes.
Any challenges?
At 18 I was concerned about moving away from home to live completely alone in a remote property amidst the woods of the Clumber Park estate. However, gaining this independence turned out to be one of the best parts of my apprenticeship and it was all part of the experience.
Did you do anything that you didn't expect whilst you were on your apprenticeship?
In 2015, I had the opportunity to attend a young crafters workshop Oslo in Norway. The event was organised by various conservation charities from around the world and I was tasked with representing the National Trust. The two main objectives of the trip one was to learn about traditional Norwegian buildings and how they were constructed the other objective was to build a "grindbygg" (barn/shelter) from scratch using the same tools and methods which would have been used to create the building originally.
How did the training provider/college support you?
I attended college once a week and received occasional visits from my college tutor, but I received the majority of support from my colleagues within the National Trust.
What role did you move into after your apprenticeship?
I have worked for the National Trust for nine years and moved from a joinery apprentice to a full time joiner/carpenter, and this year I have progressed onto a Building Supervisor role.
How do you apply the skills you learned now in your role?
All the practical skills I have learnt throughout my apprenticeship have enhanced my understanding of traditional woodworking and this knowledge helps me to maintain National Trust properties using traditional skills and techniques.
Any advice for anyone thinking of doing an apprenticeship?
I would definitely recommend a National Trust apprenticeship to anyone who wants to explore an alternative perspective to modern construction. Someone who has the time and patience to learn the history of how buildings were constructed in years gone by. The advice I would give is take your learning and development into your own hands. Use the college to gain the qualification and use the knowledgeable and experience of National Trust specialist craft teams to learn the skills.