Rangers, volunteers and residents team up to help reduce Lake District flooding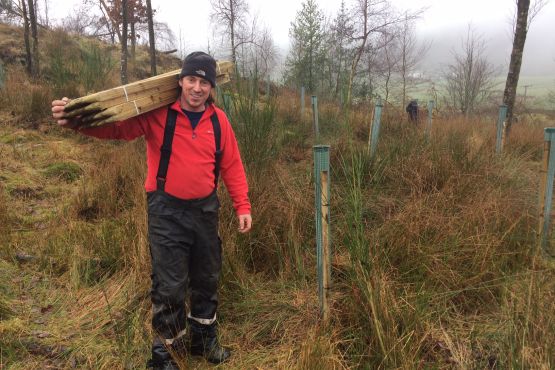 Hundreds of trees were planted across the Lake District in the first mass tree planting event held by the National Trust in the national park. The trees planted on Friday 10 February will help reduce the impacts of future flooding and restore wood pasture habitats that have been lost.
Our Rangers and volunteers were joined by tenant farmers, local school children and residents, and members of the Woodland Trust to plant 1,400 saplings across five sites in the Lake District.
As they mature, it is expected that the trees will help to trap rainwater and mitigate the effects of future flooding. In late 2015, Storm Desmond brought record rainfall to parts of the Lake District, with 34.1cm of rain falling on Honister Pass, Borrowdale, over just 24 hours.
Today's the day! Right across the Lakes, Rangers are planting trees to demonstrate our love of #lookingaftertheLakes https://t.co/akOk9YKgc1 pic.twitter.com/AyeYKa5aRh

— NT North Lakes (@NTNorthLakes) February 10, 2017
Assistant Director of Operations Mike Innerdale said, "This is a real community effort, with dozens of volunteers helping to plant trees – restoring important wood pasture habitats and slow the flow of storm water off the fells.
"The Lake District is visited by millions of people every year. But the recent floods show just how fragile a landscape it is.
"The 2015 floods caused millions of pounds worth of damage, leaving scars on the landscape that are yet to heal.
"With major storms occurring more frequently, we're working with farmers and local residents to look at ways of making the Lakes more resilient to flooding."
Spot of tree planting today with the wasdale rangers and forestry team @NTWestLakes #scafellpike #LakeDistrict pic.twitter.com/vdFhwBuxIo

— NT Scafell Pike (@NTScafellpike) January 10, 2017
At Braithwaite, near Keswick, rangers, residents and volunteers from the Woodland Trust planted 500 trees over two hectares in the Coledale valley. The 2015 flooding caused a major landslide in the valley that caused the village of Braithwaite being inundated with silt, boulders and other debris.
Emily Brooks, who lives in Braithwaite, said, "I'm really pleased to be planting trees above Braithwaite to help to reduce the impact that extreme rainfall has had on our village. It feels like important work now, to better protect our homes from future flooding."
By planting the trees, Rangers and volunteers plan to restore areas of ancient woodland, create wood pasture and plant new hedgerows. These will offer a welcome home for birds like warblers, flycatchers and redstarts.
All of the 1,400 saplings planted are native woodland species, including oak, birch, hazel, rowan and crab apple. 
Tree planting going really well at Hoathwaite but it's now time for a brew & a biscuit! #lookingafterthelakes pic.twitter.com/GG5wuG2d3l

— NT South Lakes (@NTsouthlakes) February 10, 2017