Garry Millar : Assistant Food & Beverage Manager, Clumber Park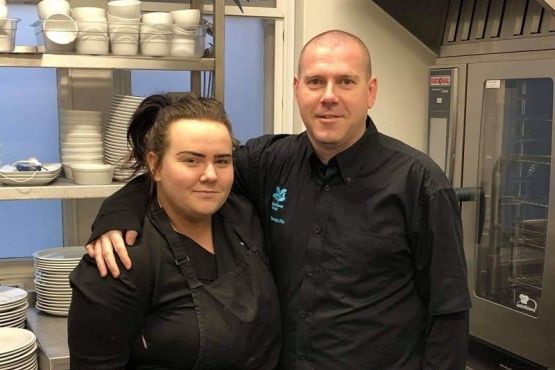 Garry has been a great advocate for apprentices on his site and across the National Trust, and has supported a number of our employees through differing levels on our new Food and Beverage apprenticeship programme. Nikki was the first apprentice to complete her Level 3 Senior Production Chef with distinction. Here, Garry talks about his experience as Nikki's manager and the benefits of having apprentices on their site.
Why did you encourage Nikki to do the apprenticeship?
Nikki was here when I started 3 years ago. A shy girl with bags of potential and a great willingness to learn. It was clear to see Nikki had the right attitude. So when the apprenticeship scheme came along, it was a great opportunity to help develop Nikki.
What has she gained from doing the Level 3 Senior Production Chef apprenticeship?
Nikki has benefited from developing her skills. When Nikki began her apprenticeship, she did not have all of the grades required to go on to the next level of her chosen career. However, we have supported her to take functional skills to enable her to progress further within the business and personal development. She was also able to "earn while she learnt", which was important to Nikki as she still has everyday bills to pay and this was a great way to learn and still earn a living wage. Nikki has also been able to receive an industry recognised apprenticeship qualification which will support her in her future career.
What has been the benefit to your site?
Not only have we shown our confidence in Nikki and hope that we can continue our journey together, but this will also allow Nikki to say that the National Trust supported her as an employer and helped her in any future role, whether that's with us or elsewhere. She has also expressed how it has helped her gain independence and respect amongst her colleagues.
What has the benefit been to Nikki of doing the apprenticeship?
Working in a large company has helped teach her to take responsibility for her actions, to learn how to act in a working environment and how to be independent in her tasks. In turn, this has helped her gain the respect of her co-workers and employers, giving her the confidence she needed to carry out her role. It has also helped Nikki benefit from ongoing and personalised support and gain new working relationships with team members, management, external people and wider park relationships. She has gained real work experience and has put into practice the work she has done. It has also helped to improve her employability in the future if required.
What has been the highlight for you as a manager?
I am so proud of Nikki. I'm a believer that "People are at the heart of what we do", so I'm proud of the journey Nikki has been on. It's also really satisfying to witness her hunger for further development, as she looks to carry on her training with a Level 4 apprenticeship.
We have many other apprenticeships opportunities throughout the year, and welcome both our existing staff and anyone with an interest in working at Trust to apply for an apprenticeship with us.
To find out more about our current opportunities, click the buttons below to review what is on offer and apply online.