Celebrating rising talent in our food and beverage team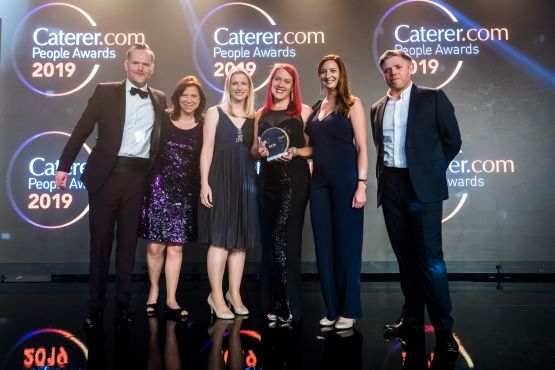 The brightest and best employers in the hospitality industry joined together recently, at the 2019 Caterer.com People Awards. It was a chance to celebrate outstanding achievements in recruitment, retention and development, and we saw our very own Laura Westall receive the Rising Talent Award. She joined the National Trust in February 2019 to support our recruitment team in ensuring that our food and beverage teams are the best in the industry. She's done this through helping them strengthen the way they hire, improve retention and trial new projects. Laura's passion for best practice and enthusiasm for change have already seen positive results.
Small steps can make all the difference
It all started with visiting some of the properties within Laura's London and South East portfolio to gain an idea of what was working, what wasn't and how she could offer support in terms of recruitment. Within Laura's first few months, she started to tackle the issues we were facing head on. She looked at how we advertised and switched our focus to the unique properties that people could work in. Laura's been looking to build up partnerships with catering colleges, engage with and train our people and progress the way we work. As part of her role, she's also been helping us to promote all the great reasons people would want to work within our Food & Beverage teams. She's helping to grow our social media presence, as well as working to create a more positive perception of the work that we do. Altogether, she's helped to design a more consistent, positive and engaging experience for anyone interested in joining our teams.
An exciting time to work with us
As the National Trust grows so does our need for talented and committed people to join our food and beverage teams. We employee thousands of people at our 342 outlets across the country and we aim to be an employer of choice. That's why Laura's work has been so important in helping us find the right people to shape the future of our food and beverage offering. It's also why we offer a vast range of benefits for our employees. Everyone here has a clear career path and the training to be able to build a longer term career within the food and beverage sector. All our employees are paid the National Living Wage as a minimum and we offer attractive working hours with no split shifts or evening work. And one of the best perks is the difference you can make. Every single person within our food and beverage teams contributes towards our future success and makes it possible to continue preserving our special places.
Want to join one of our teams? Take a look at our current food and beverage opportunities now: http://bit.ly/2m0wMGl. Or, if you'd like to know more about why working for the Trust is a great career choice, you can get in touch with Laura Westall at Laura.Westall@nationaltrust.org.uk.