Ana: Garden apprentice on Horticulture or Landscape Operative level 2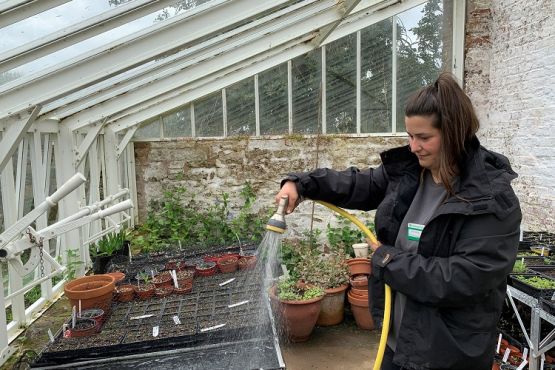 Anna had always wanted to be a gardener so when she saw the role advertised she jumped at the chance to apply and was delighted to be selected to join the team at Acorn Bank and now she is earning while learning in a role she loves.
Why did you choose to apply for an apprenticeship?
I decided to apply for the L2 horticulture apprenticeship because I had been dreaming of getting into the industry for many years and found that it was becoming increasingly difficult to do so without the appropriate skills and experience. When I realised that the National Trust apprenticeships were available, I just had to apply as It was the best opportunity available where I could continue to work and earn a salary whilst also being trained by leading experts in the horticulture without having to compromise too much of my free time to study.
Best thing about the apprenticeship?
It's hard to single out one single thing as I am currently in the profession that I've always wanted to be in, but I am incredibly grateful for all the support and help that I have received from my team in ensuring that I can learn as much as possible but also gain as much experience as possible not only within my role as a horticulturalist, but also within the National Trust. This kind of support and care that I have received as an apprentice has been just as valuable in my future development as the apprenticeship itself. I also love that I can spend most of my working days outdoors surrounded by plants and nature doing what I love the most. There is never a dull moment at work and the tasks that we complete are incredibly varied taking away the boredom that can be often associated with other jobs, so for that I feel quite lucky. I've also never been much of a 'office work' kind of person, struggling to sit still for too long so I also really value the physical work and being able put any pent up energy to use in the gardens.
Any challenges?
Like with all aspects of life there are challenges, so it takes knowing that this is the kind of work that you want to be in. If it's a career that you love, these challenges aren't so difficult to overcome. Having to go back into education after 5 years of not having to be academic was a struggle to start with. There is a common misconception that in gardening you don't have to be studious, but there is so much to learn from botanical nomenclature to biology that It will certainly keep you on your toes.
Have you done anything that you didn't expect whilst on your apprenticeship?
I have done quite a few things that I wasn't expecting with this apprenticeship which have been incredibly beneficial for my career development in horticulture. This ranges from working and volunteering in different gardens and sites in and out of the National Trust, taking part in extra-curricular activities such as organising Origami blossom making activities with local primary schools and I even have a joint talk about future proof vegetables lined up with my mentor at our local village's gardening club which is very exciting.
What are your plans for the future?
I would love to continue working in horticulture, preferably within the National Trust and, if possible, I would like to keep learning and training so that I can gain as much knowledge and experience as possible in the industry so that I can progress further in my career.
Any advice for anyone thinking of doing an apprenticeship
Doing an apprenticeship can be challenging at times, so you must ensure that whatever you're training in is something that you are willing to commit to and be prepared to work on both during your allocated work and study hours as well as in your own personal time. In horticulture you also must be prepared to learn the science behind plant health in your studies as well as botanical nomenclature, so it's important to expect more than 'just gardening' and to thoroughly understand what will be expected of you as an apprentice so that nothing comes as a surprise. I would also recommend taking your time in the gardens to learn as much as possible from your team members and working closely with garden volunteers to build up on your skills and knowledge as this will go a long way. I would also recommend not shying away from the things in horticulture that spark your curiosity and ensuring that you make the most of all the opportunities that the National Trust has to offer.