Visitor Experience: We're winning hearts and minds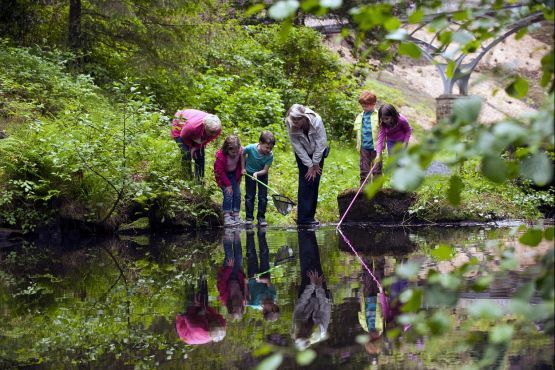 It seems like there's never been a more exciting time to build a career with the National Trust. We are really proud to be one of the top visitor attractions in the UK, making a difference to the lives of over 22 million people every year at the houses, gardens and parks in our care, and more than 100 million people a year as they enjoy the coast and countryside. With this in mind, we've been really busy behind the scenes making sure that we have the people and the resources in place to ensure that each visit is the best it can be.
We caught up with Visitor Experience Director, Jess Monaghan, to discuss her role and how the new members of her immediate team and the further Visitor Experience Team will affect change inside our organisation and across the heritage and outdoors sectors.
The role of Visitor Experience Director
Although I'm a Visitor Experience Director, my team doesn't deliver visitor experiences directly – that's the job of thousands of brilliant, dedicated people at our properties. We're there to set the direction, support them and make sure they have all the guidance, advice and resources they need.
Quality is a priority in everything we do. We think about the experience of the visitor. How can we make sure we get it right every time? This means facilities, services, accessibility, looking great, stuff for the kids to do. How do we all work towards the same thing?
We also think a lot about innovation. The people that visit us are constantly changing and looking for new ideas. We have to keep reviewing and changing what we offer so that we're keeping pace with the interests, needs and priorities of our audiences. We can help more people benefit from our places by the way we welcome people and develop programmes to help them explore, understand and engage in their own way.
What really gets us out of bed in visitor experience is helping everyone feel welcome to enjoy our places in the ways they want to. What can we do to release that potential for more people, more of the time?
There's also a business side to this, too. By providing experiences that people are happy to pay for through their membership, we're making the most important contribution to the financial sustainability of the organisation. How do we manage growth, cope with the people who want to visit, and help the Trust plan for the investment they need to keep pace?
Why this is important
We sit on some amazing cultural, natural, and environmental assets, and we need to make sure we're a big voice in that sector. This means being a leader, inspiring change, leading by example, and working with partners. We need to make sure we are part of national debates and dialogues, national programmes (like Heritage Open Days), common themes, and making sure that we're playing our part in the cultural life of the nation.
We're privileged to work on the most exciting bit of the Trust, it's the point where all the fabulous places, collections and environments come together and start to make sense. Our role is about improving people's lives, making the world a better place. We're very lucky to do what we do.
Being the biggest visitor attraction
We have more opportunities to meet and connect with people face to face than any other conservation organisation. On a daily and weekly basis, we meet a significant chunk of the population. We have 22 million visitors a year paying for entry to our places, and many millions more in the outdoors. These are millions of chances to make a difference to somebody's life. It's a big responsibility.
We owe it to those people to care for our places, and also to ensure that our welcome and presentation is the best it can be. We have a responsibility to be really good at what we do and to be a leader in what we do.
Why do you love your job and what advice would you give?
It has to be one of the best jobs in the whole sector – where else is there so much opportunity to help shape brilliant, life-enriching moments for so many people?
For me, anyone joining our team or the wider Visitor Experience team needs to have a service mentality. They need to be genuinely interested in and curious about the needs of our visitors and want to help them enjoy their day their way. They also need understand how to make things happen by influence, inspiration and leadership as well as direct delivery.
My advice is to be completely focused on the people we're here to serve. It's about having a clear vision and having absolute determination to serve that purpose. Be comfortable about working in a collaborative way across the organisation, working with people, listening and learning from our colleagues and visitors.
For more information about careers within our Visitor Experience and Visitor Services team, click here.