Chamonix: Assistant Ranger apprentice on the Countryside Worker level 2 apprenticeship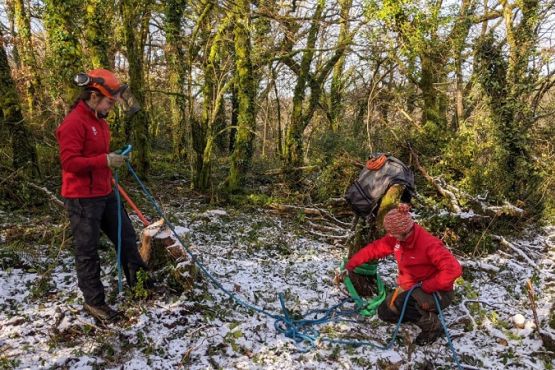 Chamonix chose to apply to be one of our Assistant Ranger apprentices based at Lydford Gorge as she wanted to learn more about nature, conservation and countryside management and saw the apprenticeship as a good route into an area she was interested in.

Why did you first choose to apply for an apprenticeship?
I have done some volunteering before on a permaculture farm and with several other places through the site called workaway; which I found really interesting and wanted to learn more. I wanted to change career paths to do something I really enjoyed, but most of all get outdoors and learn more about nature! I didn't have a degree in environmental sciences or conservation, or any higher education related to this line of study or work at all. So, I thought it was simply unachievable without those qualifications to do something like this. But an apprenticeship offers you the hands-on experience and a qualification to support it, without really the need for much or any prior experience! I also am not a person who does well being on computers every day and would have struggled with 3 years at university, cooped up indoors without much hands-on or practical aspects. So, it's a fantastic opportunity for anyone with an interest in this line of work, even if you don't have prior experience or knowledge, to have the opportunity to learn on the job. To work alongside other people who have the experience, knowledge and skills who can guide you, coach you and teach you along the way.

Best thing about the apprenticeship?
Having that opportunity to get hands on in the role and learn through doing, rather than it being all lecture based or book based. Along with many other things!

Any challenges?
Covid 19 has been the obvious challenge, which affected the work we were doing only weeks after I started in my role as an apprentice. It has changed the ways we work in order to adhere to the guidelines and new laws in place, which has been challenging. Also, all of our lectures have been online instead of in a classroom, which has been different; but the lecturers have been very accommodating and adapted their teaching techniques to respond to this challenge in a professional and well executed manner! We love a good Zoom call now!

Have you done anything that you didn't expect whilst on your apprenticeship?
I have been driving the old Landrovers at work! I grew up with our family owning one and it sounds rather daft, but they remind me of being a small child and bring back good memories of family trips. I always wanted to drive one and have been able to do that whilst at work. But it's not just about being able to drive a vehicle, it's the trust that the organisation (the National Trust) has in their staff, apprentices and volunteers. It's not like I've been having someone hold my hand at work, as they do put trust in you and enable you to do things by giving you responsibilities, which makes you feel trusted and part of the team. They are also committed to helping you develop in your career, which means for me that I will be able to do my chainsaw license this year too. Which is something I didn't exactly expect to do on a L2 apprenticeship, but I am very grateful for that opportunity.

How have the training provider/college supported you?
The training providers have been very supportive, but more than this; they have been understanding. Due to the difficulties of current times, they understand how different our roles may be and the difficulties that implies with being able to do parts of the course at differing times since some people had been furloughed longer than others. Nevertheless, the tutors/assessors have been fantastic; they are really interested in the work they do and have a lot of knowledge and understanding about countryside management (which does help of course) but they make it enjoyable and fun. Our Zoom calls have been entertaining as well as informative which helps, so that it's not always so serious and formal during these difficult times. Furthermore, we had discussions at the end of each lecture/lesson to ensure we understood the days lesson; and in some ways I feel like we've had more time with our college assessors/tutors due to the pandemic and more support from the college whilst we've not been able to be present on site due to Covid, which has been a positive to get that extra time.

What are your plans for the future?
To keep learning! I've realised (not at the old age of 22 but since I have started to mature like a good cheese) that people never stop learning. There are people at all ages on courses, at university, Open University etc. who are still learning. It doesn't mean that because you are an adult you can't go for an apprenticeship, or start something knew; which I had started to believe before this. So, I've learnt that you can make a change and go for what you're interested in at any age and I intend to keep learning more about countryside management, nature, conservation and how I can fit into a role that does just that.

Any advice for anyone thinking of doing an apprenticeship?
That an apprenticeship has no age limit. That you can follow what you are interested in, even if you don't have previous qualifications in it. Because I didn't have the qualifications so I almost didn't apply as I didn't think I would be considered. We all doubt ourselves at times but you don't know if you don't try and you may find that something you're passionate about can grow through an apprenticeship and potentially your passion may develop into your career. Apprenticeships are really to train people in something with hands on experience whilst they learn on the job; not necessarily the next step after university, or after college/school, but a gateway for anyone who wants to try something new and get real experience of that job/role. Especially in a L2 qualification, as it's just a starting point or stepping stone to gain an insight into that role, by beginning to build that foundation of knowledge and experience.