Annabelle: IT apprentice on Cyber Intrusion level 4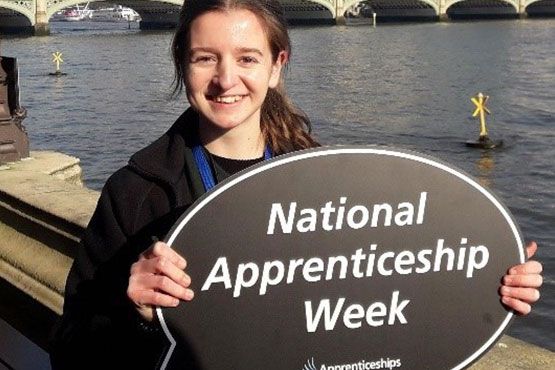 Annabelle joined the National Trust straight from college after completing her A-Levels rather than going to University, as she wanted to learn hands-on in an IT role. She was a key member of the Security Operations team during the 2020 lockdown, supporting the company whilst still working towards her apprenticeship. Read on to find out more about her role, and some of the experiences she has enjoyed whilst on her apprenticeship.
Why did you first choose to apply for an apprenticeship?
I wanted to gain experience in a working environment and develop my skills, such as problem solving, interpersonal skills and leadership. By doing an apprenticeship, it has meant that I am able to gain professional qualifications, which are enabling me to gain further knowledge and skills. I became interested in cyber security after I completed a theory unit based on it at college. I really enjoy working in the cyber intrusion area, in the Security Operations team at the National Trust as not only is it an interesting area to work, but it changes each day. For example, some days I may be investigating compromised accounts and the next day I could be investigating and analysing a phishing email for an end user. I was particularly keen to do an apprenticeship in the cyber intrusion area as females are very underrepresented in STEM (Science, Technology, Engineering & Maths) industries and it is an area that really interests me.
Best thing about the apprenticeship?
The best thing about doing an apprenticeship at the National Trust is getting exposure to the security environment. I have lots of responsibilities, such as monitoring the incident queue, looking at emails that users have reported as phishing, monitoring various portals and monitoring alerts that we receive. One of the best things that I have done so far at the National Trust would be making the Phishing Runbook for the Cyber Resilience Taskforce, as this is the document that the Security Operations follow when responding to phishing incidents. The elements of 'working' and 'learning' is what makes the apprenticeship perfect for me, as I wanted to learn about the cyber intrusion subject area whilst also experiencing what it is like to have a job.
Any challenges?
When I first started the apprenticeship, it was difficult to learn the processes followed and understand all the different security tools used. I had only just completed my A-Levels before I came to the National Trust, so I had never been exposed to security tooling and business processes and procedures. However, I had support from my colleagues in the Security Operations team to make sure that I was confident using all the security tools and understood the processes that I needed to follow. Working through lockdown in 2020 was challenging as before lockdown was announced, I had only been working from home once or twice a week rather than full-time, so it took a while to get used to. However, a benefit of working in IT is that I can carry out the same day to day tasks, that I was doing in the office at home and so was still able to support the company in my role during the period.
Have you done anything that you didn't expect whilst on your apprenticeship?
Something that I didn't expect to do whilst on my apprenticeship was that I would get to visit the House of Commons during National Apprenticeship Week in February 2020. It was an amazing opportunity and I had such a good day. I met the Minister for Family & Education and talked to other apprentices in different industries, such as Banking and Engineering. It was also interesting to meet lots of other female apprentices working in STEM industries, as females are quite under-represented in this area of work.
How has the training provider supported you?
The training provider has supported me in many ways whilst completing my apprenticeship, such as providing learning and course materials when I have been on the residential training courses. This was very useful when completing revision and preparation for the exams I have to take as part of my apprenticeship. As well as this, I have regular reviews and catch-ups monthly with my trainer and we talk about my progress related to my exams and coursework, and I have the opportunity to ask any questions to make sure I understand what is required.
Plans for the future?
In the future, I am hoping to get some more security qualifications, such as CompTIA Security+ as this is a good beginner qualification for security and I have already learnt some of the content for it for my Level 4 exams.
Any advice for anyone thinking of doing an apprenticeship?
Do it! An apprenticeship is a great opportunity for you if you are thinking that you would like to get some work experience whilst you learn and gain a professional qualification at the same time. Doing an apprenticeship has presented me with some great opportunities, such as going to the House of Commons for National Apprenticeship Week, so make sure to say 'yes' to every opportunity that you are given.