Good comments and empty plates - an interview with Petworth House's Head Chef, Karl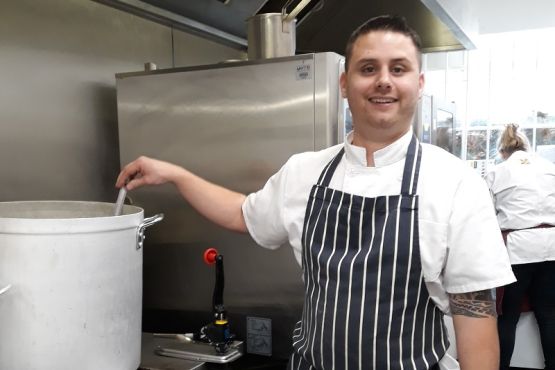 Petworth House and Gardens is one of the National Trust's biggest visitor attractions. Situated in the London and the South East Region, a stone's throw from Guildford, this impressive house and Capability Brown landscape takes visitors through many eras.
One of the biggest draws Petworth has is the variety of food and beverage outlets on site. After taking a trip back in time to a Downton-worthy Victorian kitchen in the servants quarters, visitors can settle down with a traditional cream tea in the Audit Room Cafe. The on-site cafe also serves light bites and healthy refreshing meals along with barista style coffee.
We caught up with Karl Marsh, Head Chef at Petworth House and Gardens, to find out what he enjoys most about this exciting and challenging role.
What does your role involve?
Before I joined the Trust, I was a Sous Chef at a cafe in Chichester. Coming into this role has meant stepping up and it's been a brilliant career progression for me. My role is really managing the kitchen and making sure the kitchen runs smooth and problem free. I work with a really great kitchen team, between us we believe in teamwork and everyone pitching in. When it goes right, it's like a well-oiled machine.
Today I've been working from 7:30 am until 3:30 pm, I've been helping set the kitchen up and playing catch up after my holiday. Everyone pitches in but I like to make sure the kitchen is ready for lunch and everything is ready to sell and looks great.
Every day is different really. The worst bit is waiting for deliveries to turn up, but that's not so bad considering I love the rest of the job!
What is the best part of the day?
Good comments and empty plates, it's great when I get visitors' feedback that the food was well received. That's the best part of being a chef, knowing you've left people feeling full and happy!
What's the best thing about working for The National Trust?
The best thing is getting to work with really nice staff who look after you, that can really make or break a kitchen team and luckily we've got a good crew here. Another thing I love is that, at the end of my shift, I get to spend time with my family. Not having to work long and late hours in a restaurant, that really feels like a luxury for a chef.
I also get to taste some of the fantastic food that we're now offering. We have the Soil Association Bronze Award for food for life, and today I was tasting our new (and delicious) vegetable curry.
Why should someone come and work at Petworth?
Here at Petworth, we've got a good team. Everybody that works here wants to be here and will help you or guide you with whatever you're doing. There's a lot of freedom if you compare it to a normal Head Chef role, and you get to be very hands on. For example, today I was discussing with a visitor the best way to make a pork pie without the correct trays, so they could try our recipes without needing to buy special equipment. Being able to engage with our visitors is something I really enjoy.
What are you looking forward to?
We have a brand new menu and it's our first weekend serving it, so I'm really looking forward to cooking it as well as seeing the visitors' reactions!
Find out more about our roles in Food and Beverage today.