Success, support and setting up the LGBTQ network: being out and proud at the Trust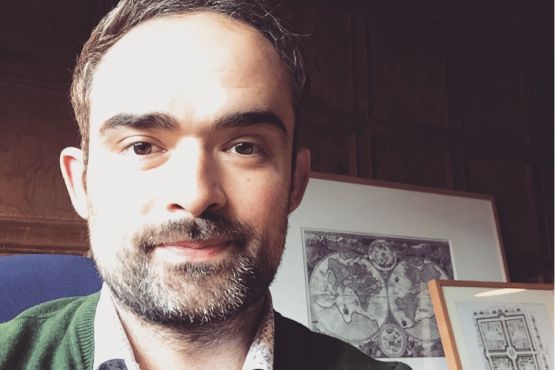 Stephen Spinks joined the Trust as Visitor Services Manager ten years ago before being made General Manager in 2015. Why did he join the Trust? He wanted a role where he could make a genuine difference – and preserving the nation's heritage for future generations enabled him to do exactly that. We caught up with Stephen to talk about being out and proud at work, and hear all about what the Trust is doing to support the LGBTQ community – and we're delighted to hear that he's felt supported and accepted since day one.
Encouraged to be myself
The Trust has always been a welcoming place irrespective of who you are. My sexuality has never been a point of discussion; people have always accepted me simply because I am me not because of whom I'm attracted to. It's refreshing. Over the last ten years I have had four promotions, brought about by the encouragement of really supportive line managers who have worked hard to push me. I have gone from working as a departmental manager to a General Manager now looking after a portfolio of properties in North Warwickshire which sees over 500,000 visitors a year through our doors and a turnover of just over £4.4 million. I wouldn't be doing what I'm doing without the support of my managers, past and present. I am always myself and the Trust both embraces and encourages me in that.
The Trust's commitment to the LGBTQ community
This is the first time I've worked for a national organisation who speak openly about the LGBTQ community. It feels as though the Trust is making a long-term commitment to us – in its national storytelling through the Prejudice & Pride programme and also in its commitment to setting up a network for staff and volunteers. I feel immensely proud of the Trust for reaching out into the unknown and doing its best to uncover hidden stories and make bold decisions challenging public perceptions and old out-of-date stereotypes, especially in the national press.
I am a joint-lead in the Midlands, organising the National Trust's presence at Birmingham Pride. Pride at Birmingham over the May Whitsun bank holiday is one of the largest in the country, attended by over 30,000 people. We are taking part in the parade wearing our out and proud National Trust pride oak leaf t-shirts and have a stall in the gay village where we will get the chance to meet and talk with thousands of members of the LGBTQ community. We will be using two Polaroid cameras and taking photos of people, asking them to describe in one word what the National Trust means to them. What we discover will be great for informing how we continue to engage with the LGBTQ community long after our national Prejudice & Pride programme is over – as well as giving us lots of great memories of the day. I think it is really important that we keep asking questions and listening to what our LGBTQ community want from the National Trust. The community itself is so culturally rich and diverse we need to understand how we make people comfortable in these beautiful places that we are lucky enough to be guarding for the nation.
Setting up the LGBTQ network
I'm taking an active lead in setting up the Trust's LGBTQ network and feel passionately that those who represent the LGBTQ community within the Trust will benefit from having a shared voice. The network not only will allow us to come together to share our stories, but will also ensure we can help shape the way we work as an organisation and reach out to others who are yet to join the Trust either as staff members or volunteers.
I feel really excited that the new LGBTQ network in the Trust will give real opportunities to actively engage in many aspects of Trust life whether you are a member of the LGBTQ community or not. We are at the start of that journey and so staff and volunteers have been approached to help engage and shape what that network should look like and what roles it may like to undertake. This kind of collaborative approach is refreshing and allows the network to breathe and discover its own identity organically. I really am confident that the network will encourage a group of people, whomever they may be, to come together to share stories, celebrate milestones and help shape a vibrant and exciting part of the National Trust's own identity.