Lizzie: Gardening Apprentice on Horticulture or Landscape Operative level 2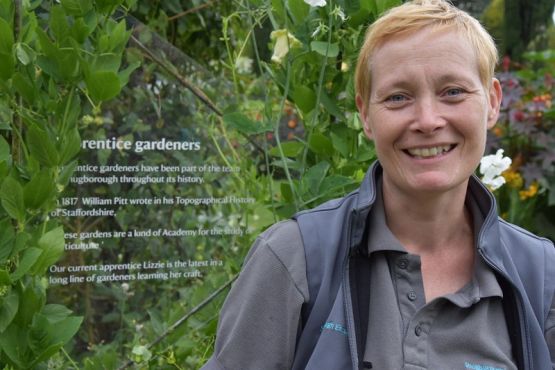 Lizzie started with us as a volunteer, then applied for the apprenticeship and has now moved into a role in the team after completing her level 2. This was a change of direction for her and has allowed her to pursue what had previously always been a hobby and turn it into a new exciting career.
Why did you first choose to apply for an apprenticeship?
I knew I wanted a different career, but the overwhelming question was how on earth do you change career halfway through your working life? My first step towards finding the answer to this burning question was to join the gardening volunteer team at Shugborough National Trust Estate. I have always loved plants and gardening, so the idea that I could find a place working in the realms of horticulture was both compelling and terrifying at the same time. Volunteering gave me the opportunity to try before you buy, to dip my toe in and see. I knew almost instantly though that the magical world of gardening was exactly where I was meant to be. As fate would have it a few months later a gardening apprenticeship role appeared on the horizon, and I couldn't have been more excited.
Best thing about the apprenticeship?
Every day for two years I was surrounded by highly experienced and talented gardeners, who were eager to nurture and develop my skills and understanding through their wealth of gardening knowledge. To learn and study my apprenticeship within a National Trust Grade 1 listed garden with all the characteristics it has to offer was just the icing on the cake. Even on the coldest, wettest day its beauty would instantly make you smile and no two days were never the same.
Any challenges?
Balancing a full-time role, college work, assignments and a busy home life with three children. Lists were my saviour and I quickly learnt that you needed a good routine to keep on top of college work.
The work is physically demanding, and everything is on a grander scale, such as eighty tonnes of mulch to be moved or two weeks of leaf collecting to be done! I certainly slept a lot more in those first few months. I learnt to always check the weather report and the value of a good hat should never be underestimated.
Have you done anything that you didn't expect whilst on your apprenticeship?
I was given responsibility for a key area within the main formal gardens. Even now I can't quite believe it. The garden was next to the formal terraces at the front of the property and is where in the early 1800's a grand Orangery had once stood. Through grant applications, utilising my own budget and managing volunteers with propagation and planting we grew and created an exotic themed garden to evoke the feel of the Orangery. To be honest it turned out much better than I had dared to hope for, and I have been lucky enough to receive so many lovely comments including some from a visiting member of the National Trust's executive management team.
What happened at the end of your apprenticeship?
Whilst my apprenticeship was coming to an end in the September a season role came available at Shugborough which was aimed at supporting the gardens through the winter months. Due to my experience on the apprenticeship I was able to move straight into the role. The apprenticeship was a very busy time, and I still wasn't totally sure which parts of horticulture I wanted to develop further. I am always eager to learn and thrive on absorbing as much horticultural know how as possible. Therefore this role gave me valuable time to reflect, enjoy gardening and continue to learn. Due to changes within the established team opportunities to extend this role became available and I feel genuinely privileged to be able to continue to work in an environment where I learn something new every day, surrounded by the simple joy of being outside.
Any advice for anyone thinking of doing an apprenticeship?
My apprenticeship with the National Trust has been life changing and through it I have been able to take the leap of a career change with confidence. Each member of my cohort of fellow students would describe a different experience, every property is different with varying strengths and inevitably areas of challenge but collectively we were all bound by a categorical knowledge that we were experiencing something unique and of immense value for our futures.
I would recommend anyone who is thinking of entering gardening as a profession to apply for an apprenticeship. The hands on real life experience is priceless.