Why it's the right time to join us as a Facilities Manager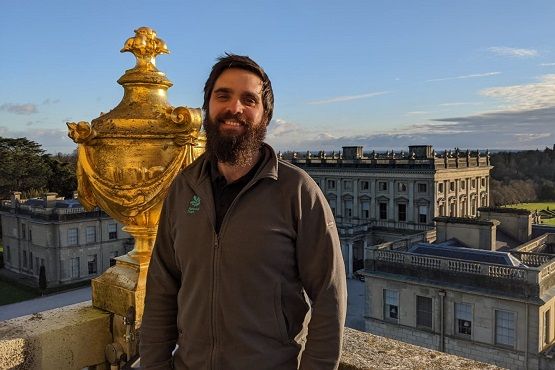 The National Trust plans to invest in conservation over the next ten years, ensuring we continue to care for some of the most important historic buildings and gardens in England. As part of this we are developing new ways of working to ensure we look after our buildings effectively and efficiently. To help delivery our strategy, we now have exciting opportunities for experienced operational facilities leaders to join us at the National Trust.

Keith Wilkie, Facilities Manager at the Cliveden Estate, tells us more about what it's like to work for the National Trust.
What inspires you to come to work every day, and wat does a typical day look like?
Every day is different working within Facilities Management, which I find very engaging. Coming through the gates of our portfolio each morning and seeing the incredible work we do every day, to provide these spaces for everyone is so motivating. The Facilities Team work to support tenants, visitors, volunteers & staff to ensure everything is in great working order and compliant. Every day is a day well spent, helping tens of thousands of people to enjoy our special places today and in the future.
What are some of the challenges you solve in your roles as a Facilities Manager at the National Trust?
Every portfolio or property is different so the challenges each Facilities Manager faces will all differ, but there are some constants such as health and safety and ensuring the National Trust is compliant; reactive and preventative maintenance; soft facilities management such as cleaning and waste contracts, as well as hard facilities management like plumbing, electrical and heating systems. The challenges that I have faced that I hadn't experienced elsewhere was getting used to working within the confines of listed buildings and learning about the management of our precious collections to ensure their survival. Not only do I get to do the 'usual' facilities management work, but I also get involved in projects that restore and protect our vital assets. It's challenging but not an opportunity to pass up.
How does the National Trust support you in your career?
This is an exciting time for facilities management in the National Trust, the profession is still young within the organisation but the recognition and support available is brilliant. There is real professional development for those seeking it with a breadth of courses on offer including IOSH qualifications but also the brilliant Great People Management Course and FED courses which really challenged my leadership style and have helped me grow, shape and lead my team whilst becoming the type of leader I always aspired to be. With a fresh recruitment drive and recognition of this profession the Trust is working with the Institute of Workplace Facilities Management (IWFM) to really upskill and provide a career path for our Facilities Managers.
How do you feel your strengths are utilised in your role at the National Trust?
Being professional and personable is crucial to building relationships which is absolutely vital when working within facilities. I build relationships with all our stakeholders in the portfolio, to ensure the smooth operation of the estate and delivery of projects. We are a membership organisation and our supporters are the reason we can do the vital work we do every day, the same skills are directly transferable when engaging with our supporters. I also love data and ensuring the best value for money, which, when working for a charity is really rewarding to know the money I can save through contracts or energy savings makes a real difference.
What attracted you to working for the Trust?
Working for a charity that is working hard to tackle the issues the world is facing is so motivating for me. Not only are we working to be sustainable with a true focus on the environment, but we also have amazing projects looking at diversity and inclusion ensuring everyone is truly welcome at the National Trust. The opportunity to work alongside our volunteers is so inspiring, they give so much so freely, and we absolutely couldn't do all the brilliant work we do without them. The work I get to do is so diverse, challenging and inspiring and not something many organisations can provide.
How would you describe your role to someone thinking of joining the Trust?
Diverse, challenging and rewarding. There is so much more to Facilities Management at the Trust than other organisations can provide. I am constantly learning and working with new people which has broadened my experience all whilst getting to do it in the most picturesque surroundings. I really believe the work I do makes a difference and after three years I still enjoy walking through the gates in the morning to see what the day will bring.
To find out more about our current Facilities Management roles and how to apply, please visit the National Trust jobs page.