Elinor: Gardening apprentice on Horticulture or Landscape Operative level 2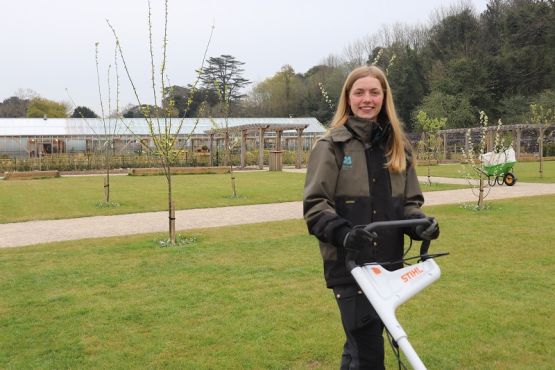 Elinor is based at Cotehele in Cornwall and is now in her second year of the apprenticeship. We caught up with her and she explains how a keenness for gardening at home led her to apply for the apprenticeship at the National Trust when she saw it advertised.
Why did you first choose to apply for an apprenticeship?
When I first heard about the apprenticeship, I had finished school and had a place on an environmental sciences course, which I had deferred for a year to get experience in different career fields that interested me. I have always enjoyed gardening, doing a small bit of kitchen gardening in my own garden, so when I came across the apprenticeship, I decided to go for it because it sounded like a brilliant opportunity I couldn't afford to miss.
Best thing about the apprenticeship?
I get to work in a beautiful garden that I have always admired and am learning new things all the time. To be able to see the garden changing through the year and appreciate how my work has impacted it; watching the apple tree that I pruned in the winter come into blossom and the herbaceous borders come to life after I cut them back in Autumn is certainly fulfilling. Another aspect that I have loved is the wonderful team that I get to work with on a regular basis, not only the team of staff in the garden department and across the property, but also the lovely volunteers who I was learning from when I first started the apprenticeship, and who I now lead on daily tasks in the garden.
Any challenges?
I find I am challenged at most days of work, but that is part of the joy of the position. To carry out a task that you have never done before, and will likely struggle with at first, but to then find your skills are gradually improving is rewarding. And then all of a sudden, your skills are so improved that you're in the position of teaching someone else how to do that task you once struggled so much with.
Have you done anything that you didn't expect whilst on your apprenticeship?
I didn't expect my role to involve so much machinery usage, I expected to simply be weeding borders and maintaining the appearance of the garden, but actually a big part of maintaining the gardens is using machinery. Whether it be using the leaf blower along the paths in the morning, cutting the hedges in Autumn; strimming the orchard before apple picking; or mowing the lawns regularly throughout year. Regular usage has made me more familiar with how machines work and why they are so important to every gardener. I didn't expect it, but I love using machinery, I am never happier than when driving the tractor and trailer around the gardens.
How have the training provider/college supported you?
The property that I have been working at have been incredibly supportive of my role, giving me the best possible experience as an apprentice. Not only have they given me the full training required, but I have also had the opportunity to learn about the history of the property and why the gardens are maintained as they are, explore some of the wider estate with the ranger team and get experience of gardens at other NT properties to understand the varying ways in which gardens can be managed and maintained. The college have been supportive in providing experience that my property simply can't provide, for example we have had the opportunity to practice turf laying at the college being trained by teachers who have experience working in groundskeeping and with the areas created specifically for training horticultural students.
What are your plans for the future?
I am hoping to continue in practical horticulture for a few more years, I would love to stay with the National Trust at any of their gardens across the country. I hope to then further my education while working, by getting a bachelor's degree in horticulture and then maybe furthering that into a more specific horticultural field like plant science. But for now, I would like to finish this apprenticeship and get as much experience in the gardens at Cotehele while I can.
Any advice for anyone thinking of doing an apprenticeship?
Go for it, it really is a brilliant opportunity. If you have any interest in gardening and being outdoors it's a great way to get into the industry and the National Trust is a great place to get the experience. Don't worry about how much gardening knowledge you have; the aim of the apprenticeship is to learn everything there is to know to become a good gardener. Just be keen to learn new things and passionate be about the garden you're going to work at.