Amy: Farming Apprentice on Livestock Unit Technician level 3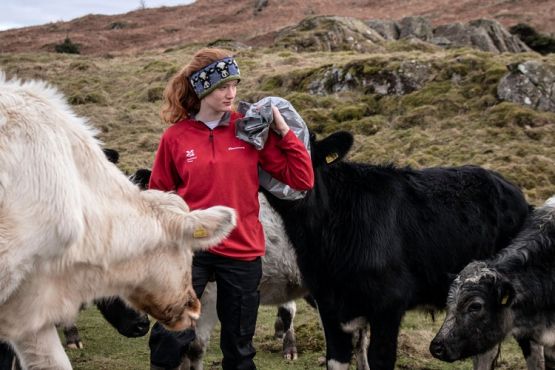 Amy joined us in September 2021, working alongside one of our tenant farmers and the local Ranger team. The apprenticeship allows her to build on her farming background and is helping her build a career in the industry.

Why did you first choose to apply for an apprenticeship?
I first chose to apply for this apprenticeship for two main reasons. Of course there's the obvious benefit to getting paid whilst developing my own skills. But also I was excited to discover the pathways this apprenticeship could lead to, especially when this apprenticeship follows a sector that I've always had such a passion for. After attending University, I believe that an apprenticeship is good in the sense that it gives you more of an understanding of what jobs are available to you and if you actually want to stay in this area of work or not.

Best thing about the apprenticeship?
I love how an apprenticeship is tailored to my own interests, so it makes the whole experience more enjoyable. For example, on the college side of the apprenticeship I can choose which subjects I'd prefer to follow.

Any challenges?
In all honesty, I'm not the most organised person in the world, so juggling my apprenticeship, the college work, fulfilling my role as Chairman for my local Young Farmers Club and helping the tenant farmer (and supporting on my own family farm) wherever possible was quite a shock to the system! Although, I definitely feel that, not only am I developing my skills as a Livestock Unit Technician, but also my personal skills like Organisation and Timekeeping too.

Have you done anything that you didn't expect whilst on your apprenticeship?
Yes, quite a few things really. Such as, getting the opportunity to plant trees, build tree cages, and being so hands on with the Albion Herd; deciding grazing, liaising with the public about the cows and general running of the herd, just to name a few!
Also I didn't expect to be so hands on with agricultural work at college, we have a farm visit every week, to different farms, where we can put into practice what we have learnt in the theory lessons.

What are your plans for the future?
I have a few rough ideas for my future, but the most definite being I'd love to stick around agriculture as much as possible, especially working with cattle. Whether this can be achieved through getting my own tenancy somewhere, keeping my Blondes on our own land and continuing to develop my herd, or hopefully to stay within the National Trust to continue working alongside the Albion herd, as I feel they have a lot of potential.

Any advice for anyone thinking of doing an apprenticeship?
Just to go for it. Especially if you learn better through doing, rather than sitting in a lecture hall. I feel getting the experiences and learning on the job is much more rewarding, as you can look back at the work you've done and see exactly where and how you've improved.