How I've helped to shape the experience of Brownsea Island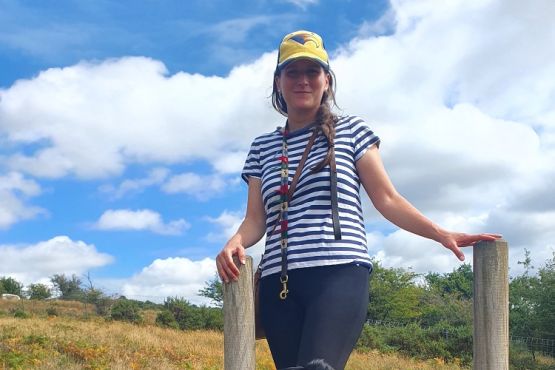 Olivia Gruitt is Visitor Operations and Experience Manager for Brownsea Island. We've been speaking to her about the challenges of creating a memorable experience that's not on the mainland and why it holds so much opportunity.
'When I first joined the National Trust, my husband and I had just returned from travelling and were looking for jobs in the South West to be nearer to our families. I came from a commercial background, project managing interpretation for museums and exhibitions; organisations like the Trust were our clients. So, I viewed this as an opportunity to start working client side for a change.
I joined the team in March 2017 as the island's Visitor Experience and Volunteering Manager. There weren't many of us in these roles at that time and following our 'Reset', my role changed to Visitor Operations and Experience Manager.
I'm so glad I made that original decision, as five years later I've been given some amazing opportunities to flex my creative muscles and I've now even roped by husband in, who works on the farm at Kingston Lacy with his sheep dog, Mist. We're a little National Trust family now.'
A challenging and inspiring place
'Understanding the visitor journey is crucial, especially as we're asking our visitors to catch a ferry to the island. So everything from planning their journey at home, to hopping aboard the ferry through to what they do when they arrive, broadly sits in my remit. I work collaboratively with our Whole Trust colleagues in Food & Beverage and Outdoor Holidays as we have a harbour side café and historic campsite, which are important components in the visitor experience.
Essentially, ensuring our visitors have a real adventure is what it's all about. Most visitors are just thrilled to board the ferry – let alone have an encounter with a rare red squirrel!'
Developing our experience together
'I think the mainstays of visitor experience have remained and I think that's quite important. There's a real focus on quality, service delivery and presentation as the bedrock of a good visitor experience. Only once you have these stepping stones in place, can you confidently start to build your offer and develop strong programming. Looking ahead, I'm really excited about where our 'Everyone Welcome' strategy is heading – I can see so much support being made available which will make a huge difference for our visitors on the ground.
Working with like-minded people really helps. We do this job as we all share a passion and commitment for people, history and places. Being an island, our team is close knit and therefore it means we can depend on each other through thick and thin. We all help each other out, so although my main role is Visitor Operations and Experience Manager, I do pitch in and support the smooth running of operations across the island, and other teams also support me and my team. Day to day, I work back to back with the Lead Ranger. So while he and his team look after the countryside and boat operations, I support the visitor business.'
The opportunity to make a difference
'I've been lucky enough to be 'client' on our Visitor Experience Design project 'Discover Brownsea' which sets out ways to improve the visitor experience on the island. My role as client has been a really important one as I act as a project's champion; setting out the brief and then ensuring the visitor's voice is represented. This is one of my biggest achievements in the visitor experience world whilst I've been at the Trust. Prior to the pandemic, we made huge strides at clearly identifying all the individual work streams we wanted to address within the project. Some are really big workstreams, like delivering a natural amphitheatre and some are 'quick wins' which have been implemented by my team. In some ways, the latter has been my proudest achievement, as we've taken these mini projects on, going above and beyond our day jobs to improve the visitor experience. For example – we desperately needed to sort out our Visitor Centre and over the winter of 2021 we eventually took this job in hand and got on with it. The walls and floors got a new lick of paint and we spent some time putting together interpretation so we could really engage with people about why Brownsea Island is so special and what countryside conservation looks and feels like.
In 2019, there was also an opportunity to join the Visitor Experience Champion network which is invaluable. The network was put in place to bring together Visitor Experience leads at properties, with our central team colleagues. I get to help and support our central team colleagues with initiatives and brainstorm ideas with my fellow counterparts at other properties. It's super useful to compare notes and an honour to help shape Visitor Experience strategy at a national level.'
Seeing where my path could lead
'Very recently, I applied and was appointed as the Property Operations Manager, in an acting up capacity. Acting up is a great way of trialling new roles and taking on more responsibility for a fixed period of time. In this new role, I'll trial line management of people outside the Visitor Experience family and also get more involved in budget setting. These will be invaluable skills as I start thinking about the next steps in my career. If you work hard and demonstrate your passion, the Trust is a great place to help you think about your future and where you want to take it. Angela Cott, our General Manager, and her manager, Ian Wilson, were both instrumental in giving me the confidence in taking up this opportunity. They spotted my leadership potential which also resulted in me signing up to the Future, Engage, Deliver programme – yet another example of the support the Trust provides in career development.'
Bringing meaning to every day
'Working here in the Trust can be very rewarding. At property level, we have a direct and very real relationship with our visitors and this means we can help influence and shape their experience so they create memories that last a lifetime. That's a real honour.
The highlight of every day for me is taking the early staff boat (The Enterprise) to the island and doing a run before my day starts. It's quiet and peaceful and I reflect on how breath-taking this place is and get energised thinking about ways to share it!'