Adam: my experience of being neurodivergent and working at the National Trust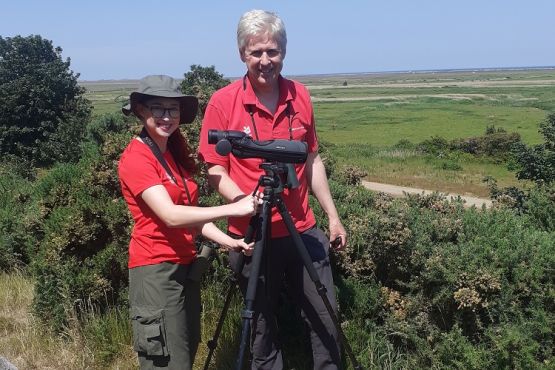 Adam tells us about his experience of dyslexia and working at the National Trust. After joining the Trust last year, and then recently successfully applying for the role of Countryside Manager, he reveals the adjustments that were made to the interview process and talks about how he's recently been inspired by an apprentice on his team.
I recently joined the National Trust and in common with 10% of the population I am dyslexic but didn't have this confirmed until my late 30's. Personally, I don't find it limiting but feel I have benefited from being neurodivergent and many 'successful' dyslexics often share this view. However, it is classed as a disability and work placed adjustments help, especially those with more severe dyslexia, such as my sons.
For this reason, I openly discuss dyslexia and decided to take part in the National Trust Disability Confidence scheme trial which is being trailed in the MEE region for recruitment.
If 10% of the population are dyslexic (with many not knowing) it means the National Trust has 750 dyslexic employees, 500,000 dyslexic members and 2.7 million dyslexic visitors. Everything about the culture of the National Trust, impacts people who are neurodivergent.
I have found the Trust to have a great inclusive culture. The People Service centre and recruiting staff discussed implications and made a few adjustments. The generic role profiles are already in an accessible format, I was given interview questions written down, had plenty of time for interview exercises. This resulted in all candidates being assessed to our best and in a way that was relevant to the role.
Since starting with the National Trust, I have also managed a talented, inspirational apprentice who openly discusses her Autism for which I am very grateful. I'm sure her neurodiversity contributes to her being the most naturally talented ecologist I have ever met. As her manager I had to learn quickly about Autism and manage issues like lighting, noisy offices and machinery which can be a sensory overload at times. The Trusts 'this is me' form which encourages people to discuss any support they may need with their manager, helped my understanding of Autism, and brokered a conversation. Eleanor also shared a post on LinkedIn describing her experiences and I found the e-learning available to us to be very good and very accessible. I discussed with People Services what we could do to make reasonable adjustments and explore roles. It's been rewarding to overcome any hurdles and I'm very proud of her development as an apprentice who has now excelled in her training, competence, and confidence in the workplace.
Things have changed since my school days in the 70's and 80's when even high IQ people with neurodiversity could get unfairly labelled and stigmatised. I'm proud of the National Trust for being proactive in this change and can see the positive impact on the new colleagues in our teams and the next generation of staff, members, and visitors.