Lauren: Talent Support apprentice on Business Administration apprenticeship level 3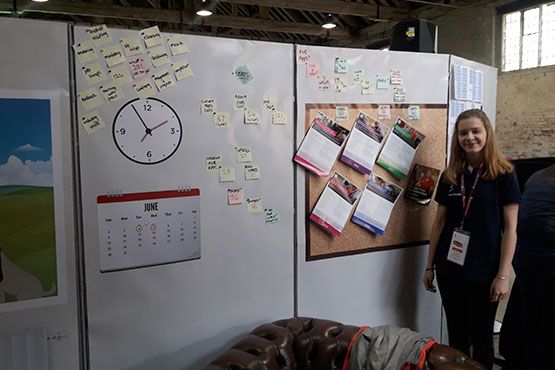 Lauren came to the National Trust after working in various retail roles where she had discovered she enjoyed doing the administration rather than working on the shop floor. This proved to be a good grounding for her as her role was to support the Apprenticeship Manager with running the National Trusts Apprenticeship programme across the whole organisation, and it was great to see her develop and pass her apprenticeship with distinction.
Why did you first choose to apply for an apprenticeship?
I chose to apply for an apprenticeship because I wanted a job that would give me the chance to constantly learn new things, opportunity to grow in a specific field and the chance to earn a qualification in something I was really interested in, in order to build a career path in the future.
Best thing about the apprenticeship?
The best thing about my apprenticeship is experiencing something new almost every day, whether that be learning something new, meeting people with all kinds of different backgrounds and going to exciting places such as Buckingham Palace to support my manager with external meetings, which counted towards my off-the-job training.
Any challenges?
Some challenges of my apprenticeship included ensuring I had my apprenticeship work completed each month alongside my daily tasks. With proper time management and dedicating days for my work I was able to overcome this and juggle my responsibilities.
Have you done anything that you didn't expect whilst on your apprenticeship?
I have done lots of unexpected things during my apprenticeship including building my confidence up so much that I was able to talk to and work with lots of new people and get involved in things I never thought, such as assisting on a successful project we hosted in the office and across multiple sites.
How has the training provider supported you?
My training provider was really supportive and always kept regular contact with me and helped me with my modules if I was stuck on any questions. During my end-point assessment my training provider was really helpful and with their guidance I was able to achieve a distinction - they couldn't have been any better.
What are your plans for the future?
My plans for the future would be any career in the administration or business support sector, as I have really enjoyed the kind of roles and responsibilities for the past year or so, and I would like to grow in that career path to something more senior.
Any advice for anyone thinking of doing an apprenticeship?
My advice would be to definitely go for it, there is sometimes a stigma around apprenticeships but it is totally worth it and feels rewarding at the end.