Find out about the exciting new vacancies we have at our Conservation Studios in Kent and Norfolk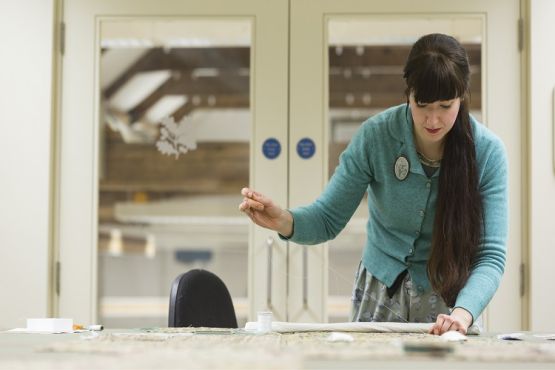 We currently have a number of opportunities at our Conservation Studios in Kent and Norfolk. One of our current Conservators shares her experience of what it's like to work at the National Trust, helping to conserve some of our most significant and engaging items.
What inspires you to come to work every day, & what does a typical day look like?
There are over 1 million items across the National Trust's 200 country house collections, which include paintings, decorative arts, ceramics, costume, tapestries, books and household objects. Being able to conserve some of our most significant and engaging objects is truly inspiring and a great honour.
Collections share their history with property, gardens and landscape and it is this unique context that makes work so special. The locations are beautiful and atmospheric, including the one I work in. Unfortunately, collections become victims to time passing, they can change and become damaged by light, damp, insects and mould. It is for this reason I enjoy coming to work, knowing that I'm helping to prolong the life and enjoyment of our collections.
Each day can vary, most of the week I'm based at the Studio, undertaking conservation treatments on items, either on my own or in a small team. Sometimes I travel to another property, which can include staying away from home, to work with property teams helping them look after their items.
What are some of the challenges you solve in your role at the National Trust?
Most collections are on open display, handled and moved during routine housekeeping tasks. I am always mindful of these issues when devising treatments and advising the house teams of the object's future care and display.
No conservation treatment is ever the same, objects have their own unique context and stability issues. It is important to take a considered and methodical approach when planning a treatment, but also to be able to think on your feet and act pragmatically when challenges arise.
Our work is often nuanced, which can make explanations around conservation decision making very challenging. Audiences inside and outside the Trust do not always have a strong handle on conservation and it is important to be able to dissolve myths and engage people in your conservation journey to successfully ensure the conservation of these treasures.
How does the National Trust support you in your career?
The National Trust is a huge conservation charity with geographically disparate locations, which makes aspects of communication and coordination challenging. Fortunately, we work together on complex problems in multi-disciplinary teams, utilising all our knowledge and skillsets to reach solutions. I feel fully supported by my fellow colleagues and there is a strong culture of collaborative working across the Trust.
I have been lucky enough to attend career developing courses and conferences, at home and abroad. This valuable experience has enabled me to meet other conservators working for different institutions, in private practice and the public sector. There is opportunity for research, and to learn from others, both internally and externally. There's also a lot of scope for being able to research a particular aspect of our work, whether that be investigating new treatment techniques, conservation materials or the history and construction of an object.
How do you feel your strengths are utilised in your role at the National Trust?
Being able to utilise both my practical and intellectual skills has been brilliant. I can spend hours on interesting and challenging treatments and the following week I can be giving a talk to visitors about the work we do. Many of us have published papers and given talks at international conferences on these topics. I love the reward of developing and nurturing non-specialists, empowering them to look after their collections and engage with others in the stories of conservation. This enables my passion for conservation and the work we do to reach a wider audience.
What attracted you to work for the National Trust?
I previously worked as a volunteer and the environment had a nice vibe, I liked the openness, friendliness and flexibility. I feel my commitment to the Trust has only deepened as an employee and I'm glad to say the work environment hasn't betrayed my first impressions!
The collections are such a huge draw for me, they are extensive and of national and international significance, so I know my skills will always be required. The diverse range of objects and different properties means the job never feels boring.
The context of the collections to the house is endlessly fascinating with so many routes of enquiry. There is a common ethical approach in the sustainable care of houses, collections and the landscape.
How would you describe your role to someone thinking of joining the National Trust?
The work environment is collaborative and convivial. I have learnt a lot in my role and been given many opportunities to develop and showcase my skills. I have worked with a lot of people from different backgrounds and interests. The working environment is always atmospheric and beautiful, which is stimulating and inspiring.
To read more about the roles available and to apply please use the following links:
IRC122104 - Remedial Conservator – Frames
IRC122239 - Remedial Conservator – Paintings
IRC122800 - Remedial Conservator – Textiles
IRC122092 - Remedial Conservator – Furniture