What does the Lake District mean to you?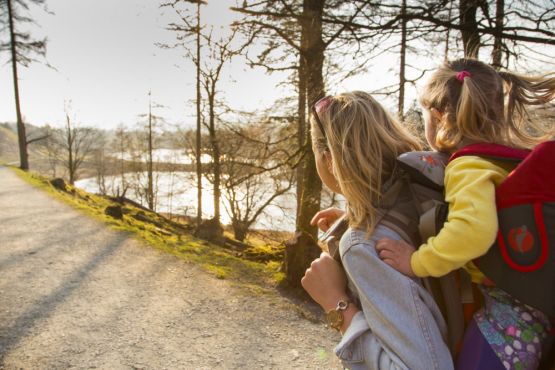 Home to Beatrix Potter, a place of peaceful peak-top inspiration for others, a treasured holiday destination for many. The Lake District means many different things to many different people. There's a lot more to this unique landscape than its undeniable beauty and, as we look for an inspirational leader to drive forward our contribution to the Lake District as a World Heritage Site, we're sharing just some of the reasons that #TheLakesMatter to us.
World-class, big-impact conservation
Conservation is about protecting significant places from harm and, for many, there are few places more significant than the Lake District. With a timeline dating back to the Stone Ages, the Lake District has an incredibly rich history. The National Trust has worked hard to keep this special place special for the last century – in lots of different ways. The combination of millions of walking boots, the weather and the gradient of the mountains causes constant erosion. We lead on the Fix the Fells partnership, bringing together wonderful individuals and investing in re-landscaping erosion and rebuilding the important paths that allow people to enjoy the Lakes. From restoring the Lake District after the destruction caused by Storm Desmond to the Future of the Lakes engagement project, we work hard and we work together to make sure this incredible landscape delights for centuries to come. It's no small task but it's a hugely worthwhile one.
Inspirational experiences and enjoyment
How often do you feel truly relaxed? Tranquillity is a treasure in today's increasingly busy world. Chances to unwind, rejuvenate and feel inspired don't come around very often. And the Lake District has been giving people exactly that for centuries. Millions across the world have a powerful emotional connection with the Lakes. Beatrix Potter moved here from London after falling in love with spirit of the Lake District. It inspired much of her work – Squirrel Nutkin sailed on Derwentwater and Hawkeshead was home to the Tale of Johnny Townsmouse. She wasn't the only one either. William Wordsworth famously adored the Lakes and wrote many of his poems about the 'undisfigured beauty' here. Whether it's for a weekend wander and a drink in Sticklebarn pub, a holiday to get-away-from-it-all, a peaceful lakeshore walk or a family cruise, over 15 million people visit the Lake District every year. Part of our new Programme Manager's work will bring together creative minds and bold thinking around how we can enhance visitors' experiences to teach, move and inspire even more individuals in this world class landscape.
A changing landscape, a collaborative future
The Lake District's beauty is only half of the story. We face big challenges in the Lakes if the land is to be protected for centuries to come. The December 2015 floods have sparked a public and political debate about what can be done to help the landscapes withstand the impact of future storms. We want to open up how we manage the land to the people. Our Lakes Spotlight Project and Sustainable Land management tool gives us the platform to work with partner organisations and engage the public to test and debate proposals. As part of our bold future plans, we'll be looking closely at how we can involve people in the Lakes' journey ahead and grow support for our cause.
The Lakes need you
Right now, we're looking for a creative thinking influential leader to drive forward our response to the Lakes World Heritage Site bid in 2017. It's a once in a lifetime opportunity and a project like no other, that will leave a lasting legacy for generations to come. To find out more, and apply, read our Programme Manager role brief.
What does the Lake District mean to you?
The above shows just a handful of the many, many reasons that the Lake District matters to us. But we'd love to hear why it's so important to you. Post your thoughts on what the Lake District means to you, whether it's a tweet or a blog piece on LinkedIn Pulse, and share it with us using #TheLakesMatter.