Ceara: Riverlands apprentice on Water Environment Worker level 3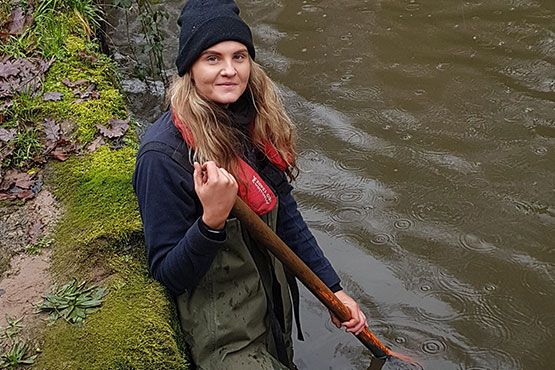 Ceara joined the national Trust in February 2020 and had only been in the role a few weeks when she was furloughed. During that time she continued studying towards her apprenticeship and the college were able to support her studies remotely. She is now back on site and supporting her team in protecting out rivers and waterways as part of our wider Riverlands project.
Why did you first choose to apply for an apprenticeship?
I was ready to take the next step in my career and wanted to apply for an apprenticeship that would allow me to continue gaining relevant, hands-on skills and experience in the industry, whilst developing my theoretical knowledge. I was also keen to gain a nationally recognised work-based qualification, as well as all other training and development opportunities an apprenticeship can offer.
Best thing about the apprenticeship?
There are so many great things about my apprenticeship. The work has been diverse; I have waded through the river, clambered up trees, created habitats and tackled invasive species, as well as attending college and studying. It has reinforced my passion for learning and given me the opportunity to gain skills, explore places and learn about many different aspects of conservation and the water environment. The best thing about my apprenticeship, however, is working alongside an experienced and knowledgeable team, who have helped to support my role and encouraged me.
Any challenges?
Work can be physical, hands-on and dynamic at times. Going home afterwards to study and build a portfolio requires a level of self-discipline and motivation that can sometimes be difficult. The National Trust however, is an organisation that focuses on enabling and encouraging a culture of cooperation and emotional support. My team of colleagues have helped me to manage my time effectively and are always identifying ways for me to reach my potential. Starting a new, unfamiliar job was also challenging at first. However, the support from the team, as well as all the training and learning have helped me to find my feet. I now love the challenges every new day brings, and I enjoy seeing myself progress and improve.
Have you done anything you didn't expect whilst on your apprenticeship?
I didn't expect to be furloughed. However, the team made sure to include me on a social level, as well as keeping me in the loop of any changes and developments. My college experience and learning also changed and moved beyond a traditional classroom approach, to a new, remote style.
How has the training provider/college supported you?
Bridgwater and Taunton College has consistently provided support, and a learning experience that encourages me to undertake a depth and pace of work that suits my learning needs and style. The college sets clear expectations about course work, deadlines and learning objectives. Skills, training and the course content are always evidence-based, purposeful and underpins my on-the-job work, whilst also being transferrable and progressive, to promote my continued career development. My college assessor also keeps in touch regularly. He welcomes questions, aims to encourage curiosity and inquisitiveness, and prompts me to gain deeper insights into the work I am undertaking.
What are your plans for the future?
I am determined to continue learning and working within this industry and plan to continue building upon the skills, knowledge and insights I have gained from this apprenticeship. It feels like there are many doors opening and I am excited to see what the future brings.
Any advice for anyone thinking of doing an apprenticeship?
My advice to anyone thinking of doing an apprenticeship is to just go for it. Even if you think you can't, you can. Even if other people think you can't, you can. An apprenticeship is a fantastic way to follow your interests, learn about what you love and gain skills and experience whilst shaping your career. If you are prepared to work hard and seize every opportunity, then applying for an apprenticeship could be life altering.