Sharon: An apprentice on our Riverlands programme studying Water Environment Worker level 3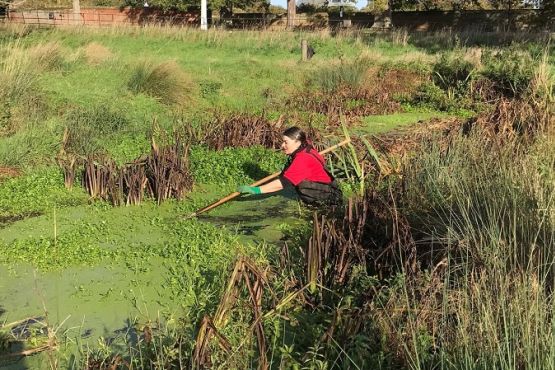 Sharon is part of the team working on our wider Riverlands project and was one of the first apprentices to be enrolled on this exciting new apprenticeship route as soon as it went live in February 2020.
Why did you first choose to apply for an apprenticeship?
This apprenticeship felt like a natural progression, combining the practical skills I'd already learnt in my budding Countryside Management career with my passion for anything and everything connected to rivers and water. Before starting the apprenticeship, I volunteered where I lived in London on river litter picks and river bank reinforcement tasks and knew I wanted to develop my knowledge in a more structured way within the National Trust, a respected conservation charity.
Best thing about the apprenticeship?
I am enjoying learning whilst I work and am finding everyone within the National Trust so helpful! There is a genuinely positive ethos and I am lucky to be working with a range of colleagues including those in the Blickling and Felbrigg countryside teams, all with diverse experience, knowledge and skills to share.
It probably goes without saying that working in or near water has been a dream come true! I'm working within the Riverlands project on the Upper Bure, a chalk stream in Norfolk. The project aims to create a healthy, clean river that is rich in wildlife and so far I have carried out tasks ranging from removing vegetation to counting fish to testing water quality!
An apprenticeship gives me the unique chance to implement my college learning here at my placement and in turn any learning gained is recorded and goes towards achieving my apprenticeship.
Any challenges?
I think it is impossible to look back at the year so far and ignore Covid-19. This has presented many challenges, but the National Trust and my college have worked hard to ensure I am still able to gain my qualification. I am lucky to have inspiring mentors and feel supported if I encounter any challenges. I spent some time on furlough in the summer but on my return I felt like everyone was keen to get me back on board and were even more motivated than before to help me achieve my goals!
Have you done anything that you didn't expect whilst on your apprenticeship?
When I look back at photos taken during the apprenticeship, I am reminded that I have been involved in such a variety of tasks! One day using a fluorescent yellow tracing dye to track water through a culvert and wading through a river to look at woody debris the next. My favourite days are too numerous to list but always involve donning my waders – I'm never happier than when I'm wearing waders!
How have the training provider/college supported you?
My Water Environment Worker apprenticeship originally had two campus based block weeks planned. The first, earlier in the year, was a great opportunity to meet other apprentices, creating a support network with the Environment Agency locally and my fellow National Trust apprentices nationally. The college adapted the second block week for online delivery, developing detailed resources that were used in tutorials and drop-in sessions. My work is submitted online and I have access to resources that include interviews and the latest news in the 'water environment' industry.
I have been allocated a tutor who is knowledgeable as well as being approachable; always making time for any queries I have.
Whilst I am in the first cohort of this apprenticeship I feel confident that I am gaining a top quality qualification.
What are your plans for the future?
I am currently three quarters of the way through the course and very much still focused on developing my skills and interests. Since starting, I have been encouraged to visit other National Trust sites and have met inspirational people carrying out groundbreaking work such as beaver reintroduction. I would love to continue to be involved in projects like Riverlands that have a direct impact on our environment; only 17% of rivers in the UK are regarded as 'healthy' so I plan to use my learning to join the growing army of workers intent on improving them!
Any advice for anyone thinking of doing an apprenticeship?
When I first saw the apprenticeship I almost didn't apply, automatically thinking that I was too old. I contacted the Apprenticeship team at the National Trust and was reassured to hear that it was open to any age. I feel privileged to be at Blickling and Felbrigg working on the Riverlands project and would want anyone else to have the same special opportunity. I'd encourage anyone considering an apprenticeship to dive in and take the plunge!