Ged: Farming apprentice on Stockperson level 2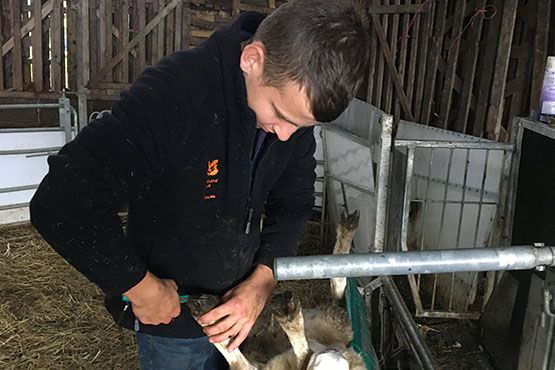 Ged was our first farming apprentice on the new standards at the National Trust and his time was split between supporting one of our tenant farmers and working in our ranger team. During the coronavirus pandemic, Ged was deemed to be an essential worker and was able to support our tenant farmer throughout lockdown as it coincided with the lambing season. He stayed in one of our holiday cottages during that time to avoid additional travel and whilst he was staying there he even managed to mend the gate to the property! His support to the tenant farmer was not only invaluable but gave him additional experience.
What inspired you to look for a farming apprenticeship – do you have a background in farming?
I don't have a background in farming but I've always loved being outdoors. A work placement with East Riding of Yorkshire Council Countryside Access team got me interested in working outside as a career.
Best thing about the apprenticeship?
For me, it is being a stockperson. Working with the stock is my passion. From helping ewes lamb in April, to shearing in June. Every season brings a new challenge and experience.
Any challenges?
Being a stockperson is such a varied role. From shearing to tractor driving it takes time to really improve specific skills. I think my challenge isn't one particular thing - it's being able to improve all the skills I've learnt this year.
Have you done anything that you didn't expect whilst on your apprenticeship?
During the coronavirus pandemic I had the opportunity to stay at an empty National Trust holiday cottage near to where I work.  It was definitely something I didn't expect but it was lambing time so I couldn't miss out on that!
What's a typical week?
Jobs that need attention straight away such as any escaping stock are what we start with first. Then it's specific jobs. In winter ensuring stock is fed takes priority, whilst in spring it's lambing which keeps me on my toes. Summer is hay and shearing time. Autumn is a good time to catch up on repairs such as fencing, walling and mechanics.
What are you enjoying the most so far?
Working with the stock is the thing I enjoy the most, especially shearing.
How has the college provider supported you?
My day at college has been a great opportunity to meet other apprentices from the diverse field of agriculture. The tutors have been helping me prepare for my end point assessment in April and have visited me at the farm.
What do you hope to do after this apprenticeship?
Over the course of the apprenticeship I have found my passion which is agriculture and conservation. I would like to work on different farms as a stockperson, and perhaps a bit of shearing and fencing or even setting up my own business. My dream is to have my own tenancy where I can farm in the way I feel is the way forward.
Any advice for anyone thinking of doing an apprenticeship?
Go for it! An apprenticeship gives you that hands on experience combined with education and training. I couldn't have thought of anything better than this apprenticeship. There's nothing better than mud, sweat and tractors!