Why Gardener Kate chose to work at the Trust over a private garden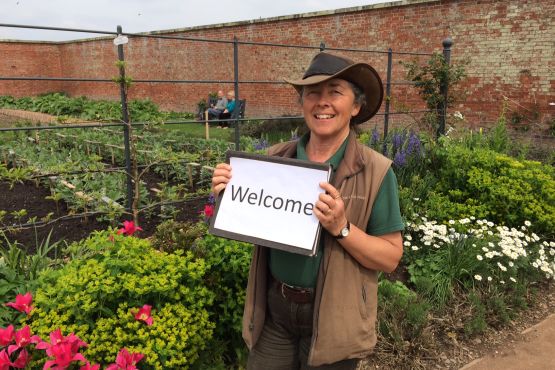 Before pursuing my childhood dream of becoming a gardener, I was a producer for BBC Radio Four for 13 years. I went back to college to do my RHS and NVQ, and then did the Women's Farm and Garden Association WRAGS apprenticeship in a Rare Plants Nursery.
After volunteering at the Botanic Gardens in New York and the National Trust, I started working at Greys Court which I loved. I then moved to a large private garden for seven years, before returning to the Trust at Attingham Park as "Walled Gardener". This was a huge challenge: restoring the 2 acre kitchen garden to full production as well as managing a three acre apple orchard.
I was very keen to work for the Trust again, partly so that a lot more people could enjoy my handiwork than the garden owner, partly for the camaraderie and partly for the support of a large organisation.
I have been at Attingham now for six years and the restoration project is almost finished. It has been wonderful to see the garden grow from small beginnings to a large productive enterprise with 70 volunteers, three staff, and some lovely colourful borders to enjoy. I am certainly keen to stay on to finish the project, although as all gardeners know, a garden is never "finished"!
The Trust is always keen to extend my remit outside the garden walls, with talk of restoring the 12 foot deep herbaceous border along the southern aspect, as well as recreating the "slips" to the west.
When I joined the Trust, I was pleased to see how much freedom I would have to design and plan the planting myself. As long as I could present a persuasive case to the Curator and General Manager, I am allowed to get on with it. The enthusiasm of the volunteers has enabled us to develop areas of the garden that would have been impossible with limited staff resources. It also means that no two working days are ever the same!
If you are as keen on people as you are on gardening, you'll be happy working in a National Trust garden. Visitors and volunteers are always keen to chat, so being able to work and talk at the same time is a crucial skill!
Thank you to Kate, Walled Gardener at Attingham Park.
If you're interested in finding out more about gardening opportunities at the National Trust, search our vacancies.