Michaela: Gardening apprentice on Horticulture or Landscape Operative level 2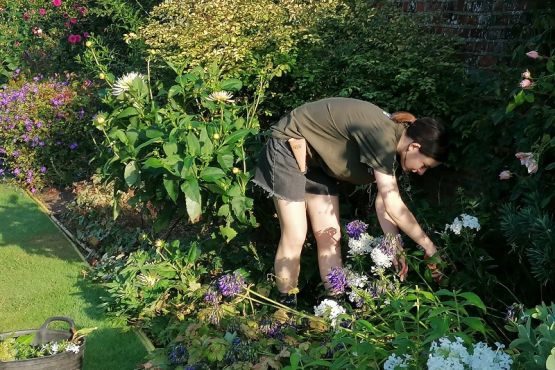 Michaela wanted to learn more about Horticulture and completing the level 2 Horticulture or Landscape Operative apprenticeship will allow her to learn as she works within the beautiful gardens at Cliveden.
Why did you choose that specific apprenticeship?
When I applied for this apprenticeship, I was looking for something that would teach me a wide range of skills within horticulture. I found many other apprenticeships that were extremely focused on one specific area of gardening, which did not appeal to me as a new gardener. When I got an interview at Cliveden, I was taken aback by the wide range of opportunities and gardens that they had to offer, therefore, I could not say no.
Was there any decision between the apprenticeship route and any other route?
I attended university in Cambridge studying music after I completed my A levels. I loved university, but I wish there were more talk of alternative career routes prior. When I was at school, we were constantly pressured to get great GCSE results to complete our A levels, to then achieve a degree at university, to get the job we need; whereas there was little, if any, talk of apprenticeships. After graduating in 2017, I was looking for something new. Most people who study for a degree in the Arts would tell you that it is quite difficult finding work as a postgraduate. Once I found my love for Horticulture, an apprenticeship was the best opportunity to apply for.
What has been your proudest achievement on your apprenticeship to date?
Honestly, I have been incredibly surprised by the number of things I have already learnt since starting my apprenticeship only three months ago. Learning Latin names is definitely an achievement to be proud of – another is being able to pronounce them correctly! I will also mention the two weeks it took us to pull up the old plants, prepare and level-out the bed, and plant out 7,500 Erysimum cheiri 'Sunset Primrose' (Wallflowers) - now that is an achievement.
How do you see your apprenticeship helping you in your career progression?
This apprenticeship covers a wide range of skills that I will learn over the duration of my course. This includes seasonal maintenance, use of machinery, topiary, propagation and more. Because of this, it will open a wider range of work in the future, allowing me to hone more skills in particular areas of horticulture, but also with having a potential career with the National Trust. I have met many great gardeners and keen horticulturists within this field already, including my fellow National Trust apprentices, and I can see the support within this industry.
What would your advice be to anyone thinking about doing an apprenticeship?
If you do not like the sound of working in beautiful gardens alongside experienced gardeners, learning all there is to know about plants, and getting paid for it, then do not bother.