Nick: Assistant Apprentice Ranger on Countryside worker level 2 apprenticeship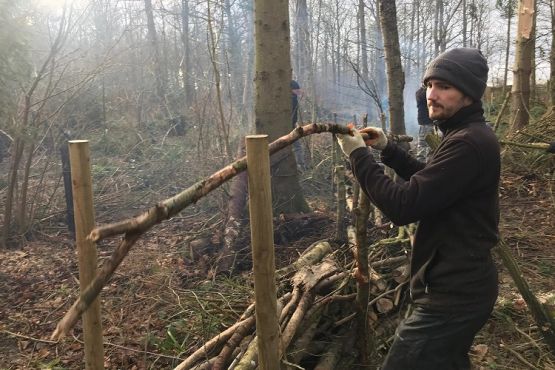 Nick joined us in March 2021, and his role along with 6 other apprentices across England was funded through the Governments Green Recovery Challenge fund. Where he is based at Wallington, he is helping to create and restore grasslands, woodlands and hedgerows all along the river corridors that will see enable natural processes to prevail.
Why did you first choose to apply for an apprenticeship?
I have worked for the National Trust for almost 5 years now, and originally came in as a Visitor Services Assistant in order to try and get my foot in the door in the outdoors teams, either gardening or countryside. I have had a variety of roles since then, but when the apprenticeship came up it I knew it was the best opportunity I would get to transition into the outdoor side of things! For me it was a no brainer, as I didn't really have any experience in the area, but that didn't matter with the apprenticeship.
Best thing about the apprenticeship?
Spending every day outside! I love fresh air and beautiful countryside and most days it doesn't even feel like work – I feel really lucky to spend every day in such a wonderful place.
Any challenges?
Coming back into education has been strange, since I've been working since I left college. I didn't really thrive in an educational environment growing up so it was strange coming back to that, but I've enjoyed it a lot more now.
Have you done anything that you didn't expect whilst on your apprenticeship?
I didn't expect to get the amount of freedom and independence I have in the workplace – the rangers at Wallington have been great at giving me and the other apprentice at our site jobs to get on with and lead on, its great to feel independent and not just always tagging along with the other rangers all the time – they trust us to work independently as well.
How have the college supported you?
Our mentor from the college is always available for a chat over the phone, and the block week in Somerset was a fantastic experience and so much fun!
Plans for the future?
I want to go on to an assistant ranger position after the apprenticeship, and spend a couple of years building experience and just enjoying work! Then ideally move into a ranger position and move on to the level 4 countryside ranger qualification. Whatever I decide I definitely want to stay within the Trust and ideally in the North east. We have so many beautiful properties up here!
Any advice?
Don't be put off if you feel underqualified – Apprenticeships are a way in and it doesn't matter if you don't have much experience in the area! Also, I've been with the Trust a while and can say they are fantastic employers, and so many really lovely people work for the Trust and I've made some life long friends along the way.