Stenford: IT Apprentice on Software Tester level 4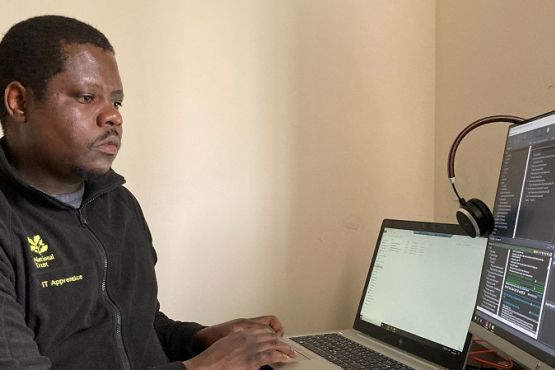 Stenford came to the National Trust after leaving the Military and chose to apply to do this apprenticeship as a means to retrain in an area that interested him while earning a wage. He is part of our wider IT Apprenticeship Academy based at our Head Office, Heelis in Swindon.
Why did you first choose to apply for an apprenticeship?
Following my Military service, I had plans to enrol in a computer program at one of the universities. After a long deliberation with my family, I concluded that taking on an apprenticeship was the right path.
I chose the apprenticeship for many reasons, a few that struck me most are, earning while learning. With the National Trust organisation, the apprenticeship earnings are pretty good. Gaining real work experience while learning is another reason. I am learning from well-experienced people. I always get the opportunity to do practical execution of everything that I would have shadowed. There are people with more experience than me, they guide me and make sure that I deliver my best.
Best thing about the apprenticeship?
The Software Tester apprenticeship has opened many doors for me, discovering new skills, discovering earning potentials, receiving internationally recognised qualifications, and at the same time gain real work experience. I am immensely grateful.
I am part of a group of five apprentices, a diverse team, from different ethnic backgrounds and different genders. During my military career, I developed skills such as discipline, time management, teamwork, and excellent organisational skills. Time spent in the military equipped me to work effectively and calm under pressure.
Any challenges?
Every job has its challenges, one of the challenges I experienced as an apprentice is, having to balance my college assignments and making sure that I meet deadlines on my work projects. I found this to be demanding since both tasks are priorities.
How have the training provider/college supported you?
With the support that I get from college, I have managed to achieve good results and meet the expectations. The college provides me learning materials, up to date equipment, a training plan, and competency mapping. There is also an assessor who is always there to guide me and making sure that I am following the correct apprenticeship standard.
What are your plans for the future?
My plans are to complete an advanced software testing course and become a full stack software test engineer.
Any advice for anyone thinking of doing an apprenticeship?
My advice to anyone thinking of doing an apprenticeship is, make sure you are passionate about what you want to do. Research and find out more about what the apprenticeship provider is offering you in terms of qualifications, job opportunities, and what sort of support you will be getting throughout your apprenticeship.