Leith Hill & Nymans Place Project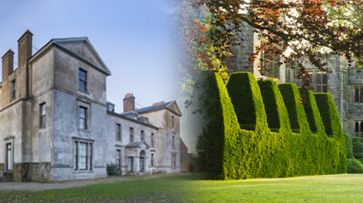 Calling all Building Surveyors with a background in Project Management…
We are recruiting for a Project Manager Building Surveyor to join the London & South East region to work on two fascinating and historic properties; Leith Hill Place & Nymans. It can be quite difficult to encapsulate the entirety of the role in a job advertisement, so with the view of providing more information we have listed some further comments below.
We also understand that National Trust, as a whole, has a wide variety of projects running at any one time. However, as a potential new employee, you may not be aware of the extent of the projects that we are working on.
Leith Hill Place
The significance of Leith Hill Place is recognised nationally as being of more than usual special architectural or historic interest by its being designated as a Grade II* on the statutory lists. It also has archaeological significance, group significance as an estate grouping, a high degree of landscape and setting significance and, due to its association with three key cultural and historical names, the Wedgwood family, Charles Darwin and Vaughan Williams, cultural significance.
The Project:
Leith Hill Place at this moment in time is a place of beauty and inspiration, but it is in need of significant conservation work to ensure its preservation. We want to secure the future of the house and explore a pioneering use of the space, inspired by creative and scientific geniuses who have inhabited the house throughout history. Despite having been closed to the visiting public for over fifty years, the house has attracted media attention, and in particular has some vociferous and influential stakeholders who are eager to see that the Trust is caring for the structure of the house and that its long term future is secure.
We are keen to see the development of the house as a place of inspiration, research and creativity. As audiences change for the National Trust, this is also a chance to introduce a new model for public benefit, which isn't wholly reliant on pay for entry but is driven by deeper engagement and targeted to relevant audiences.
Nymans:
Nymans, home of the creative Messel family, is about to undergo a transformation. We need a project manager to oversee the creation of new catering facilities andimproved visitor infrastructure at this beautiful house and garden. A historic ancillary building next to the extraordinary house is to be repurposed to provide a new landmark café and the existing café is to be overhauled. You will be working with an inspirational General Manager and a knowledgeable, hard-working team comprising surveyor, property staff and regional and national experts.
The role:
The project is now in the design and plan stage and as project manager you will need to steer the design team to provide a suitable solution in answer to the client brief within the budget agreed. Main components of the project include:
Stakeholder involvement and management;
Management of the tendering process;
Overseeing the design work stream as well as ensuring that the property operations continue;
Delivery of a successful project.
The successful candidate will have:
Contract Administration and project management experience;
An understanding of conservation principles and preferably experience with listed buildings;
Be a good communicator and able to work at pace;
Be a Member of the RICS, CIOB or equivalent.
How to apply:
The vacancy is now live, please click here  to apply or view.
If the role isn't appropriate for you, please share the vacancy with other people in your network that may be interested.