How to thrive – not just survive – at the National Trust
Here at the Trust, we're committed to providing a supportive working environment as we recognise how important it is for each and every one of our employees to look after their mental health. 
In support of Mental Health Awareness Week, we've put together some helpful tips and tricks to help you stay stress-free at work. As this year's campaign focusses on thriving not surviving, we'd love you to share a photo of yourself trying out one of our top tips. Whether you use Twitter, Facebook or Instagram, all you have to do is tag @nattrustjobs to show your support.
1. Keep active
Regular exercise boosts self-esteem and helps with a whole heap of other things, including concentration and sleep. Exercise doesn't have to mean hitting the gym before or after work – we're fortunate to work in some of the most beautiful spaces and places in the country, so why not get outside and go for a 20-minute walk during your lunch? It doesn't matter where you work or choose to spend your time – taking a break will help to reduce fatigue, give you a boost in vitamin D and improve your energy levels. It's been proven that a little exercise can leave you refreshed and clear headed, too.
2. Breathe
If you find yourself feeling panicked or anxious, take just a few minutes to breathe. Whether you're in an office or elsewhere, try standing up or sitting in a chair – or even lying down if that's what works for you – as you close your eyes and make yourself comfortable with your feet flat on the floor and roughly hip width apart. Let your breath flow as deep down into your belly as is comfortable. Try breathing gently and regularly, in through your nose and out through your mouth. Some people find it helpful to count from one to five. Do this for three to five minutes and you should feel less stressed and ready to refocus your mind.
3. Be mindful
Practising mindfulness and yoga can a help you feel more relaxed and make you more productive. It's a fun and relaxing way to focus your mind. If you have the space and time, why not try out some of these office yoga poses and sequences? They'll maximise your ability to focus on your work and help you to thrive. You could even get a colleague involved! 
4. Sleep well
Poor sleep leads to worrying and worrying leads to poor sleep. Sadly, it's a cycle many of us know all too well, but you can break it with some good sleeping habits. Try and go to bed and wake up at roughly the same time every day. If you're having trouble nodding off, you could try listening to relaxing music or having a bath to unwind. Concentrating on breathing exercises, learning meditation, muscle relaxation and mindfulness can also be helpful and contribute to a better night-time routine.
5. Think positive
Don't underestimate the power of positive thinking! Reminding yourself of the good things in life and the things you love can be the first step to reducing anxiety and encouraging focus. Starting the day on a positive note, take just a few minutes to breathe and savour your morning cup of tea or coffee and breakfast. If you feel your mind wandering, you can use affirmations or keep a notebook with you to jog your memory if you need to. And if you're able to walk or cycle to work, that 20 minutes of fresh air will boost happiness and feelings of well-being.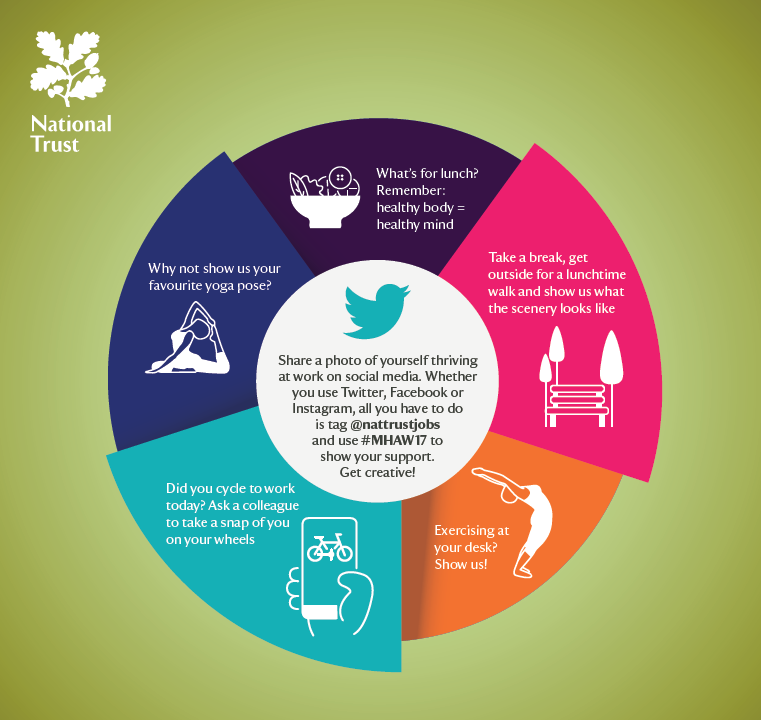 We hope these tips will help you to thrive at work. However if you, or someone you know, is struggling with mental health issues, don't be afraid to ask for help! Find our more at the Mental Health Foundation.