Food and Beverage Apprenticeships at the National Trust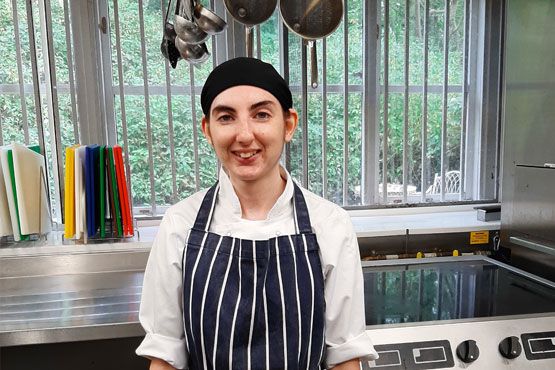 Kat joined us 18 months ago with no catering experience and is now upskilling through our apprenticeship programme to be a chef.
Our apprenticeships offer both new and existing employees the chance to learn and embed new skills, including functional skills in Maths and English.
How was your first day?
I'd applied for a job at Knightshayes with no experience of catering at all, so I was overjoyed when I was offered the position of Kitchen Porter on a part-time basis. My first day was approximately 18 months ago, and I showed up for work not having a clue what was expected of me; what I was supposed to do and how I was supposed to do it! I looked the part, wearing the kitchen staff uniform, but that was about it! Luckily for me, the staff around me were incredibly supportive and friendly. They welcomed me in with smiles and helpful hints and have continued to support me from then on.
What did you learn?
On that first day I was shown how to deal with the delivers, go through the paperwork and prepare vegetables grown on site from our lovely Knightshayes kitchen garden. I was even shown how to chop vegetables (yes, really – I didn't even know how to do this effectively). Looking back I really feel for my colleagues as I think in those first few weeks they were scared I was going to chop my own fingers off!
What does an average day look like?
I bake scones; make bread pudding, flapjacks, and sponges. Every time I've asked to develop my own skills I've been given the opportunity to. In the future I'll be making main meals and working on the hotplate.
How has the role helped you?
This job has helped me on a very personal level. The team of staff in the Stable Café (and everyone else working at Knightshayes) have gone above and beyond in making sure that they understand me and my needs. Having autism has meant that I struggle with new skills and have difficulty in multi-tasking. I often have 'my' way of doing things that seems to make no sense at all to anyone else (although making perfect sense to me!). Being accepted and respected for my different ways of thinking has helped not only my kitchen skills but also my personal skills. My supervisor naturally accommodates my needs and everyone I work with knows how to communicate with me in a clear and precise way giving me step by step instructions which means we work together as a good team, helping each other out and supporting each other.
What does the future hold?
My future with Knightshayes is looking really exciting, I've just been accepted on an apprenticeship on a full time basis, studying Level 2 in catering to become a production chef, this will lead to further career opportunities. I'm really proud of how far I have come and what I have achieved so far and if I look back over the last 18 months I can see that I have developed so many new skills and become competent in using them, (but occasionally, I still have to reassure my colleagues that I won't chop off my fingers!).
Before my apprenticeship started my line mangers Sharon and Lesley asked for me to tell them how I can be best supported in my learning, from this I was able to share with them how I work best and how they can understand me. New lists have been put into place so that I can work in a structured way that suits me best. I've many friends with disabilities and no one else can match the support and understanding that I receive at work.
An added bonus is my walk to work in the mornings through the seasons. I'm incredibly lucky to work in such a beautiful place with such a wonderful community of people around me.
To find out more about our current F&B apprenticeships, click here.