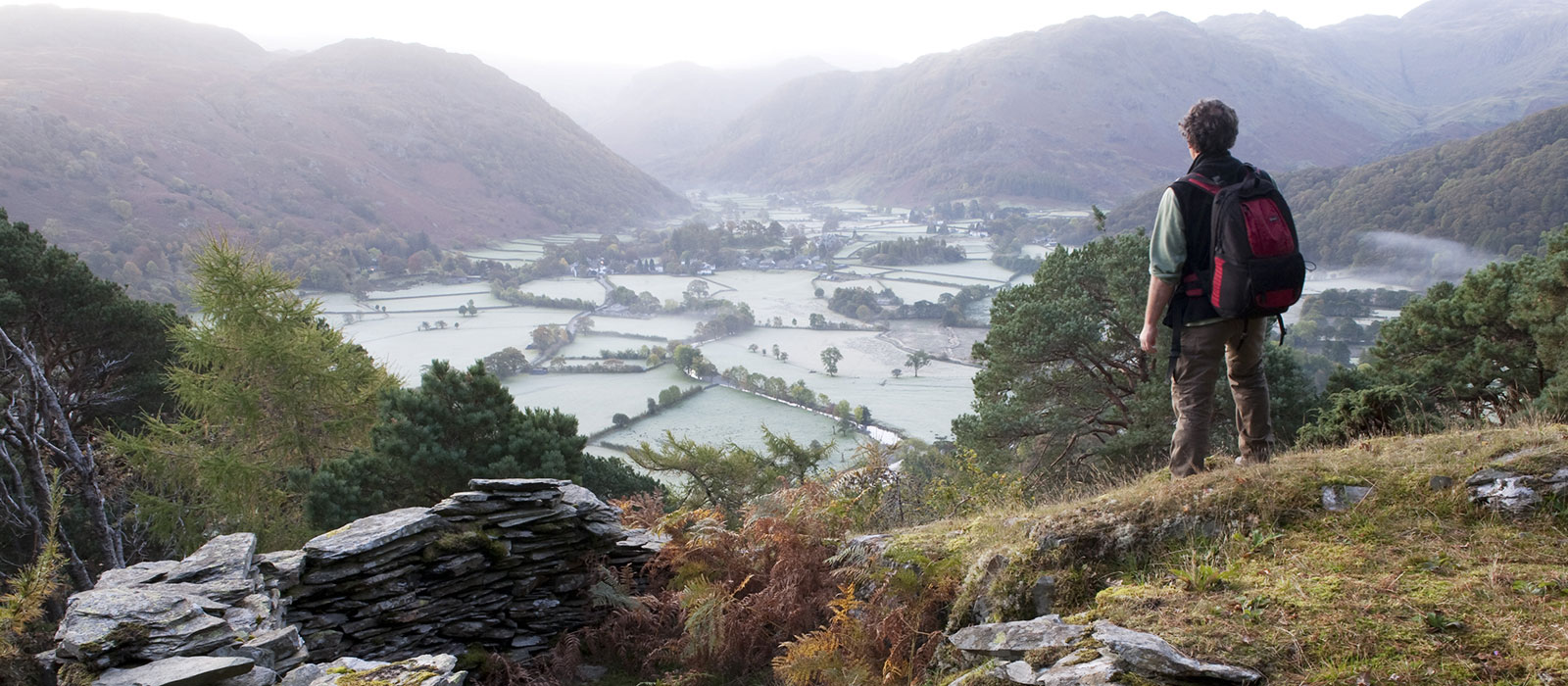 We look after more land than any other private landowner: everything from coastline and clifftops, to woodland and wildlife rich meadows, as well as over 4,500 residential, commercial and farm tenancies. So as you can imagine, Estate Management in the National Trust is a vast and vital area of our work. It always has been and always will be.
For us, it's never just been about the here-and-now. We protect and open up special places and spaces so they can be enjoyed by everyone, for ever. That's been our core purpose since the day we were founded in 1895, and the 21st century brings new challenges for us to rise to. How do we continue to manage estates and rural assets with such diverse conservational needs? How do we look after landscapes that are pride of the nation, while raising the funds which support our conservation work? How can we ensure we pay the same care and attention to each of our tenancies? Estate Management is at the heart of the National Trust's ambition for nature, people and climate. 
We've achieved some amazing things over the years, and with ever-evolving needs, it's crucial that we continue to be innovative and forward-thinking in our approach. That's why we need the very best talent to join us in Estate and Rural Asset Management.
We've recently changed the way we manage our let estate in the National Trust, transferring responsibility to our estate management teams. You'll be part of a team of experts leading transformation across our estates within a new funding model. Together, you'll shape the future of the National Trust and all the property it owns and protects.
The things we do for you
We want you to learn, discover and develop your career. And we'll do everything we can to offer you the training, support and development that you need to achieve your goals. This could, for example, include helping you to study for a professional qualification appropriate to your career, trying something new or moving into a different business area. We'll work with you to plan your development in a way that's right for your needs.
Investing in you
Induction. Your learning in the Trust starts with your induction. Whatever role you're here to do we'll explain what to expect, show you where to go and make sure you understand your new environment before you get going. 

Personal career progression development programme. One size doesn't fit all when it comes to development. Tailored to you our 'Grow Your Own Career' approach is in place to help you identify where you see your career heading, and the best ways to get there. 
Learning resources. We all learn in different ways and respond to different styles. It's what works for you, whether that's on-the-job training, flexible e-learning or one-to-one support. And in an organisation of our size and diversity, there's plenty of room to develop and places to go.
Future Engage and Deliver leadership programme. If you're in a management role we'll support you to become a better leader through our 'Future Engage and Deliver' leadership programme. The programme is designed to make sure you're well-equipped with the skills and confidence to lead your teams to deliver our plans.
Professional subscriptions. If you need to hold a qualification for your role, from either a legal or professional point of view, we'll cover the cost of your membership fee. We'll need to see that it's part of your continuous professional development, though.
Employee volunteering. Volunteers are the lifeblood of the National Trust and many other charities. That's why we'll give you every opportunity to get involved with some volunteering outside the Trust. It's also a brilliant way to try new things, learn new skills and meet new people. So we'll give you up to five paid days per year to do your bit.
Secondments. Secondments are an excellent way for you to gain and practise new skills in real life situations, preparing you for a potential next career move. They usually last from three to 12 months – ideal for temporary or project roles.
Estate Management people
Oliver

Senior Estate Manager

The National Trust is a friendly and engaging organisation that has recognised and embraced the importance that land has to people and its role in tackling environmental challenges. Estate managers and the wider let estate teams play a key role in identifying and delivering these outcomes.

The let estate teams are well structured and resourced, enabling us to effectively deliver professional estate management for the residential, agricultural and commercial properties within the National Trust.

Candice

Rural Asset Management Officer

In the short space of time I've been working in the Rural Asset Management Officer role, I've learnt so much and got to work with some great people. Being involved in some of the big, planned refurbishment projects is amazing. The ability to take ownership and responsibility for tasks and seeing them come to fruition makes you take pride in your work and is a great feeling. One only matched by the ability to work in such beautiful countryside surroundings. 

Stewart

Senior Let Estate Building Surveyor

I really enjoy playing my part in the estate management team, looking after the amazing buildings within the let estate. The challenge of balancing conservation and tenants' needs is incredibly rewarding.

I have to say that I truly love working for the Trust, as no two days are ever the same. I work alongside a fantastic team of people to support the let estate. We help to provide a great service to our tenants, so that they can enjoy living in some truly unique places.