Looking after what we've got is really in the heart of what we're here to do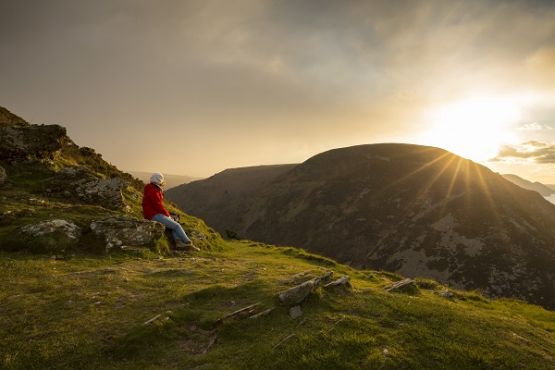 Giles Hunt - Land and Estates Director
With thousands of buildings, both inhabited and uninhabited, and many hundreds of hectares of land, the National Trust is one of the biggest land and estate owners in the world. We're also one of the biggest conservation charities in northern Europe.
Looking after the land, buildings, and estates we manage is the job of a huge team of people. We sat down with Giles Hunt, Land and Estates Director, to find out about his role and how his experience and love for the Trust impacts his work.
What is the background to your role as Land and Estates Director?
In essence, I manage 3 key areas within the department. I work under the Land and Nature Director and work with the Outdoors and Natural Resources Director and the Nature and Science Director.
Within this directorate, we look after the estate management & rural surveying, building surveying and planning for the whole of the Trust.
What led you into the role you're in today?
As a Rural Surveyor, when you leave university you have to do 2 years of practical work before being able to take your final exams and becoming fully qualified. The National Trust was offering a training contract so I took the opportunity to get qualified. As you work with the trust you learn more about what we are doing and what we stand for. The variety of work is probably the greatest variety that you'll get in the country for a rural surveyor.
I have worked in the Trust for 18 years. I started as an Assistant Surveyor in the East of England region, at Blickling Hall. I moved to the East Midlands region as a Rural Surveyor, then moved to the Wessex region to become Regional Rural Surveyor and Head Of Land Use. When Wessex, Devon, and Cornwall merged to become the South West region, I became Assistant Director of Consultancy for Conservation for the South West. Then I applied for the role of Head of Rural Surveying, before being appointed to this role November 17.
Quite a lot of change over the last 18 years but I love the Trust, it's brilliant!
What do you love about your current role?
We have 28 thousand buildings and structures, we need to make sure our policies around our buildings are what they need to be and how we go about our both annual maintenance and longer-term maintenance is done in the best possible way, using our resources in the most efficient way we can.
In my current role, I get involved in all sorts. We've got a lot of strategic aims like the renovation of our 5000 houses, we're undergoing a big renovation project and have been for a few years now. We're looking at how we're managing our farmland, inalienability, long leases, estate management plans, we help and support out in the regions.
On the planning side, we're responsible for our planning policies and making sure how we deploy our planners is done in the most effective way.
It's a big balancing act, how we treat the significance of each of our buildings needs to be done in a unique way looking at that particular building in those particular circumstances. The materials we use are really important, the craft skills we adopt is really important it needs to be done in the most appropriate way.
What do you really enjoy about your role?
I think my inspiration is the fact that the Trust was set up all those years ago in 1895 for the protection and preservation of really wonderful places forever.
My role in land and estates is to ensure that we deliver on that protection, be that protection of land or ensuring our buildings are in great shape so that future generations can enjoy them in the same way that we're enjoying them.
That's what I really enjoy, dealing with the challenges of difficult cases where there isn't an easy solution but we have to find a solution. I love it, different challenges every day!
95% of our buildings are declared inalienable, which means we can never sell them, so we have to maintain them. Regardless of what's going on, we must ensure our buildings are in really great shape. In 5000 or so we have people leaving in the buildings, so we really need to make sure that those homes are in really good conditions.
Our strategic objective of looking after what we've got is really at the heart of what we're here to do in Land and Estates.
My advice is to get out to the regions, get out to the properties and really immerse yourself in what we're doing on the ground. It's there that you get what the Trust is about.
Your role, summed up?
At our heart, we are our properties. Understanding how they operate and the challenges they face is really important. What might seem obvious on paper is not obvious on the ground and really getting an understanding of that is important.