Harry: Historic Environment Advice Assistant Apprentice on the Historic Environment Advice Assistant Apprentice level 4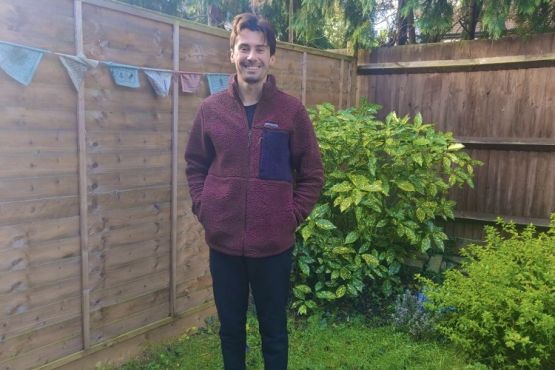 Harry joined us in October 2021, enrolling on the level 4 Historic Environment Advice Assistant apprenticeship and is working alongside the Archaeology teams at Runnymede in our London & South East Region.  We asked him to tell us what this apprenticeship is like as he is part of our first cohort on this programme.
Why did you first choose to apply for an apprenticeship?
Working with the Archaeology department within the National Trust is a dream role for me as it combines my love of natural beauty, conservation and wild places with my passion for history, discovery and sharing the stories from our collective past. The physical analysis of sites, remains and artefacts from past societies and events offers an endlessly fascinating insight into human episodes from the past that showcases to us the trajectory of the human condition and provides sources of learning, emotional connection and understanding. I view the mandate to preserve and deliver these stories to the public as an immensely rewarding one which is also reinforced in law that requires all new developments to consult archaeologists, meaning the possibilities of stories that will be uncovered is essentially as endless as it is varied. Now, more than ever, people are realising the importance of nature and biodiversity for the environment as well as for well-being and it is the combination of nature and history that make our protected places so endlessly compelling and inspiring for so many people. I have always been fascinated by historic landscapes and building. The opportunity to develop skills and hone techniques that I am deeply interested alongside an institution that I am greatly in admiration of, is a very rare and invaluable one.
Best thing about the apprenticeship?
Learning new skills and developing working knowledge of protocols, legislation and historic landscapes coupled with witnessing how they are used to compose practical recommendations is a huge bonus of this practical form of career development. I believe the insights we can gain from the archaeology on our sites (and connected to them) bolsters their already intrinsic environmental and social value because they inform the tapestry of stories and experiences we interpret and offer to our visitors . Expanding the reach of our shared heritage to include, enrich and empower wider demographics of people both physically onsite and digitally around the world is something I am incredibly motivated by and it certainly feels like NT is the place to do it for me. Working in the South-East region offers a barrage of historical intrigue from Neolithic communal sites through early-medieval monastic, beauty to colonial and WWII remnants that reveal so much about the human condition. I'll never tire of that, and I find the challenge of adapting the knowledge of all of these periods for our various stakeholders invigorating.  
Any challenges?
It's still early days and I have made incredible progress already thanks to my NT Archaeology mentor and my lecturers on the Historic Environment course. The Pandemic induced work from home setting has its challenges both personally and professionally but also comes with many bonuses such as utilising digital platforms to learn software and processes as well as attending professional development seminars online with various commercial archaeology units and museums.  
Have you done anything that you didn't expect whilst on your apprenticeship? 
Too early to say really but getting to know a great bunch of volunteers whilst coppicing in Cooper Hill Woods for a few days as well as gleaning ecological wisdom from the ranger teams on every site visit was half hoped for/ expected and has added a nice bit of environmental flavour and physical graft as well as building inter-departmental collaboration which, ultimately, is key in protecting and improving accessibility of the historic landscape. 
What are your plans for the future?
I plan to continue working on archaeological investigations which develop our understanding and interpretations of old sites as well as discovering new ones. Using this research to aid in heritage conservation and promote more inter-connected schemes and projects. I would love nothing more than to do this within the National Trust and whilst I have studied pre-historic periods extensively and certainly covet Mesolithic fen settlements, I am too much enamoured with the variety available at National trust sites to want to specialise  in one specific period currently. It is my ambition to be a part of and help develop community archaeology programmes ranging from archival research and non-intrusive survey to excavation and post-dig artefact analysis that all lend into the mission of conserving and providing access to heritage but also in broadening our interpretation and visitor offering.  
Any advice for anyone thinking of doing an apprenticeship?
Absolutely go for it! I feel that the combination of academic learning and practical application is vital for many roles in the heritage sector. An apprentice is such a great opportunity in this respect as it launches your training and career path in the most advantageous setting for growing a peripheral awareness and grasp of the many facets of this sector and acquiring all of the necessary knowledge and techniques. I feel so lucky to have attained this opportunity with the National Trust as historic and archaeological apprenticeships were virtually non-existent when I began my career change and relied on my past self-education by volunteering at digs, attending lectures and seminars or carrying out research projects and then taking up a heritage role with the Canal and River Trust before finding this peach of a placement. There certainly Is a move towards facilitating more apprentices in the heritage sector which is great news, what with the closure of so many archaeology departments. I hope there are more opportunities for people who are passionate about historic landscapes and the stories they can yield, especially when University courses are not always viable as they weren't for me.