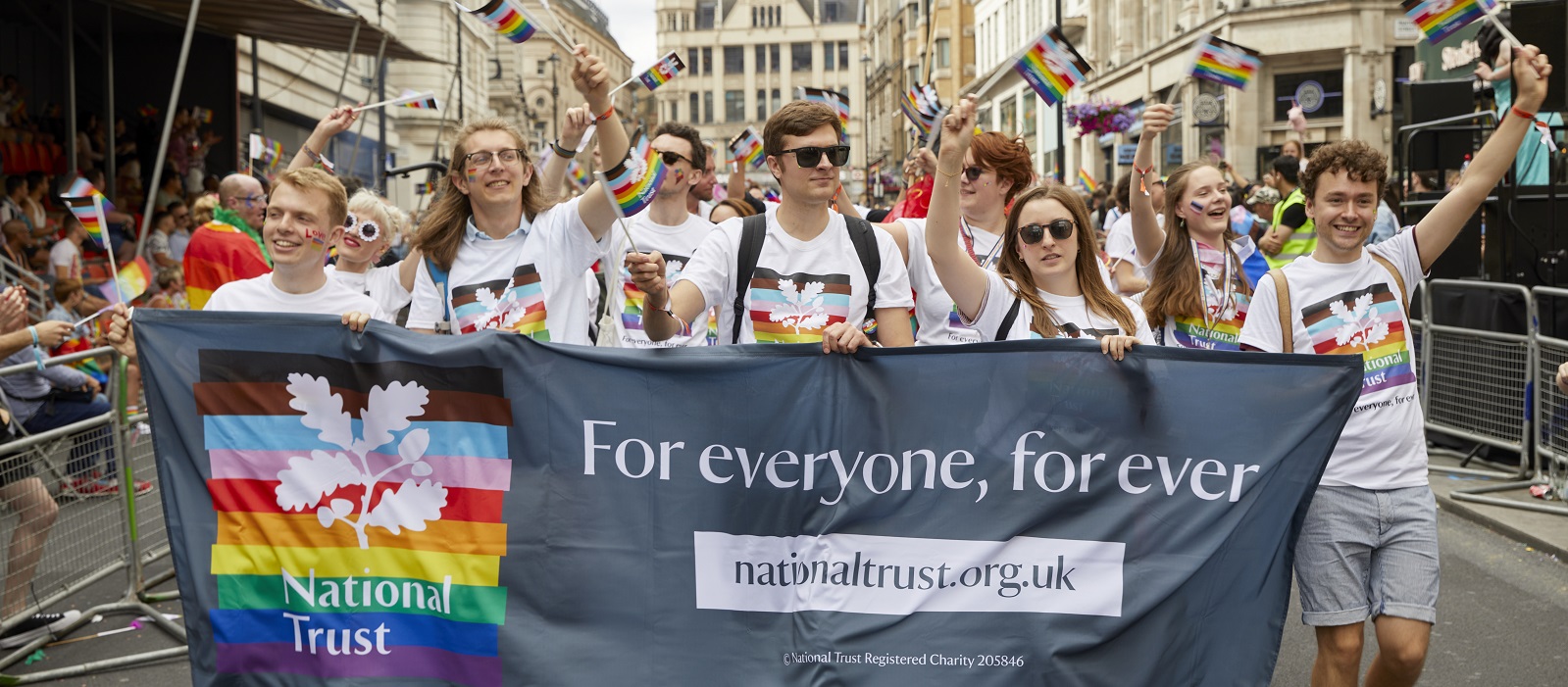 How do you connect communities to causes that matter? Or build partnerships that give back to everyone? How do you reach people who share a passion for nature, beauty and history, and encourage them to make a difference? That's the challenge our Volunteering & Community roles tackle as they reach out to local communities to understand how we can work together and what we can do better.
Every year our volunteers are helping to create a positive and engaging experience for our visitors and supporters. They're bringing history to life, getting green-fingered in the garden and leading guided walks across the land. They play a vital part in how we build meaningful relationships with the communities we're part of and help everyone to value and appreciate the fragility of our environment, and the importance of our history.
That's what makes our Volunteering & Community roles so important. They're helping us to reach a wider, more diverse audience. They're building an inclusive, supportive and flexible volunteering offer. And they're working proactively with communities so that we can achieve our shared goals.
If you have a passion for connecting people with causes, if you want to enable and empower others to protect and care for nature, beauty and history, then one of these roles may just be right for you.
The things we do for you
We want you to learn, discover and develop your career. And we'll do everything we can to offer you the training, support and development that you need to achieve your goals. This could, for example, include helping you to study for a professional qualification appropriate to your career, trying something new or moving into a different business area. We'll work with you to plan your development in a way that's right for your needs.
Investing in you
Induction. Your learning in the Trust starts with your induction. Whatever role you're here to do we'll explain what to expect, show you where to go and make sure you understand your new environment before you get going. 
Personal career progression development programme. One size doesn't fit all when it comes to development. Tailored to you our 'Grow Your Own Career' approach is in place to help you identify where you see your career heading, and the best ways to get there. 
Learning resources. We all learn in different ways and respond to different styles. It's what works for you, whether that's on-the-job training, flexible e-learning or one-to-one support. And in an organisation of our size and diversity, there's plenty of room to develop and places to go.
Future Engage and Deliver leadership programme. If you're in a management role we'll support you to become a better leader through our 'Future Engage and Deliver' leadership programme. The programme is designed to make sure you're well-equipped with the skills and confidence to lead your teams to deliver our plans.
Professional subscriptions. If you need to hold a qualification for your role, from either a legal or professional point of view, we'll cover the cost of your membership fee. We'll need to see that it's part of your continuous professional development, though.
Employee volunteering. Volunteers are the lifeblood of the National Trust, like many other charities. That's why we'll give you every opportunity to get involved with some volunteering outside the Trust. It's also a brilliant way to try new things, learn new skills and meet new people. So we'll give you up to five paid days per year to do your bit.
Secondments. Secondments are an excellent way for you to gain and practise new skills in real life situations, preparing you for a potential next career move. They usually last from three to 12 months – ideal for temporary or project roles.
Volunteer and Community people
Izzie

Volunteering and Community Officer

Plas Newydd just wouldn't work without our volunteers – their hard work; dedication and love of our property constantly amazes me. I especially love seeing the friendships that have formed from volunteering here, and the increase in self-confidence that this brings to the individuals. This role is closely related to many other departments, so I've also been able to get involved with projects completely different to anything I've done before which makes coming to work exciting – you never know what the day will bring!

Sarah

Community and Participation Consultant

My role is about supporting people and the National Trust to work with communities, building a more relevant and inclusive organisation for people in the north.

Every day is different and I love it. I can be supporting teams to work with people to combat climate change locally or walking through bird colonies discussing communities as part of the ecosystems. I'm learning to be the best ally I can be, supporting the development of allyship across the organisation and creating space for diverse voices to be part of how we develop places. I get to meet amazing people from communities across the north both inside and outside of the Trust.

It's challenging, creative and an opportunity to make a real difference in how we understand who we are, and how that informs our future; for nature and society. The scale of the National Trust means that the opportunity for positive change is great… Let's just say, it gets me up in the morning.

Alex

Volunteering & Community Manager

Every day is completely different – when you're onsite and working with people anything can happen! I love having the opportunity to meet and learn from volunteers, and work with others to offer opportunities to access and connect to our places.

Arun

Volunteering and Community Officer

Everything I do involves and revolves around people and I'm fortunate enough to work with and meet incredible people every day. It's very rewarding to help people learn new skills and find new passions, while making long lasting relationships at the property. I'm in a position that brings benefits to the local community, which I happen to live in and care deeply about, and it gives me a great sense of pride and responsibility.