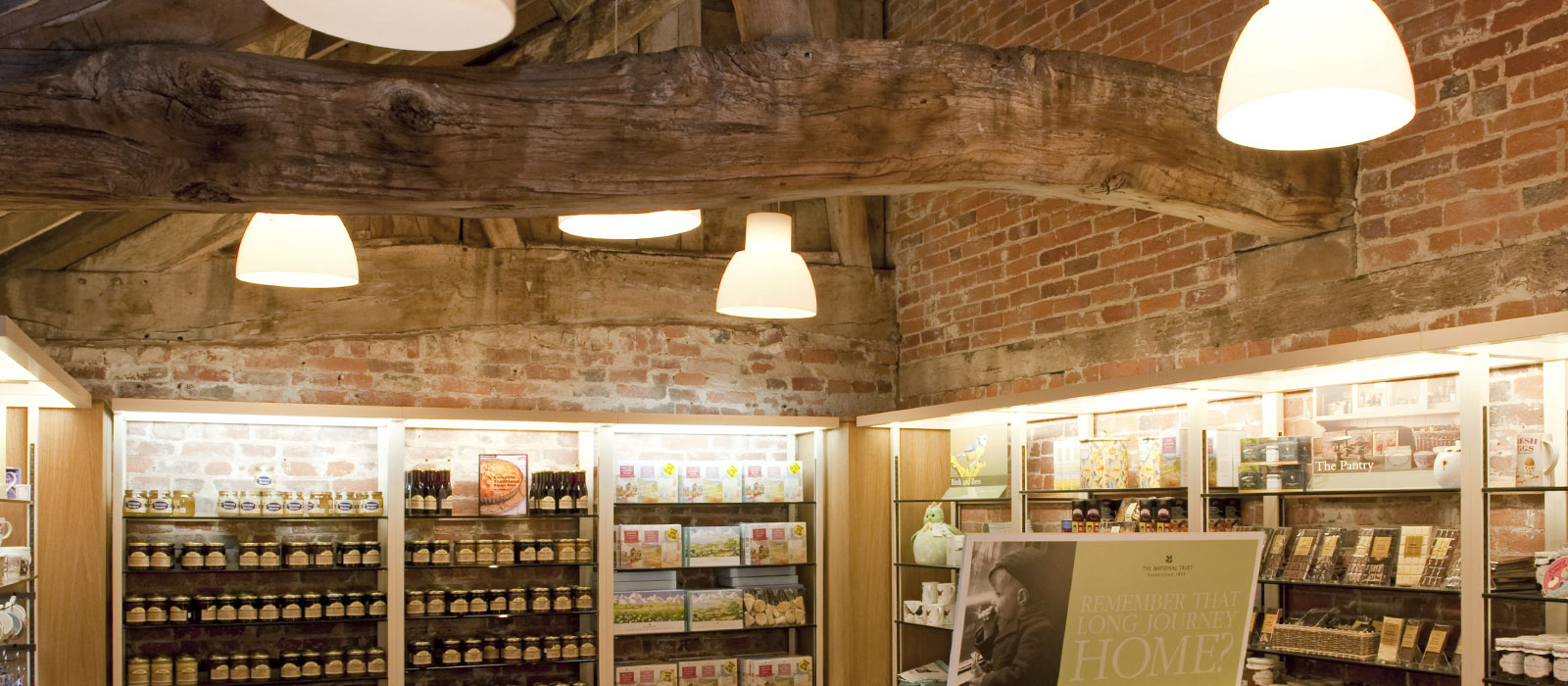 At the National Trust, retail is changing, and there has never been a better time to join the team.
Our shops are hubs of excitement, filled with stories of inspiring products and customers extending their experience with us from the property into the shop. We aim to delight our customers with a friendly smile and knowledge of our products. We inspire them to connect and support the aims of our conservation and heritage organisation, while ensuring that we remain conscious about decisions impacting our own environmental footprint as we go.
Our shops are a step away from the high street and they differ between our places, to ensure that our visitors feel the spirit of wherever they may be.
Locally and nationally sourced products support each other in telling the story of the property. Through carefully curated ranges and a freedom of visual merchandising we bring this to life, making every shop unique.
You'll play an important part in delighting our customers. In doing so, you'll be helping to generate profits for us to reinvest in our amazing places, ensuring that they are there for everyone, for ever. In return, we'll give you the chance to be creative and offer you access to the support and tools you need to build a brilliant career.
The things we do for you
We want you to learn, discover and develop your career. And we'll do everything we can to offer you the training, support and development that you need to achieve your goals. This could, for example, include helping you to study for a professional qualification appropriate to your career, trying something new or moving into a different business area. We'll work with you to plan your development in a way that's right for your needs.
Investing in you
Induction. Your learning in the Trust starts with your induction. Whatever role you're here to do we'll explain what to expect, show you where to go and make sure you understand your new environment before you get going. 
Personal career progression development programme. One size doesn't fit all when it comes to development. Tailored to you our 'Grow Your Own Career' approach is in place to help you identify where you see your career heading, and the best ways to get there. 
Learning resources. We all learn in different ways and respond to different styles. It's what works for you, whether that's on-the-job training, flexible e-learning or one-to-one support. And in an organisation of our size and diversity, there's plenty of room to develop and places to go.
Future Engage and Deliver leadership programme. If you're in a management role we'll support you to become a better leader through our 'Future Engage and Deliver' leadership programme. The programme is designed to make sure you're well-equipped with the skills and confidence to lead your teams to deliver our plans.
Professional subscriptions. If you need to hold a qualification for your role, from either a legal or professional point of view, we'll cover the cost of your membership fee. We'll need to see that it's part of your continuous professional development, though.
Employee volunteering. Volunteers are the lifeblood of the National Trust and many other charities. That's why we'll give you every opportunity to get involved with some volunteering outside the Trust. It's also a brilliant way to try new things, learn new skills and meet new people. So we'll give you up to five paid days per year to do your bit.
Secondments. Secondments are an excellent way for you to gain and practise new skills in real life situations, preparing you for a potential next career move. They usually last from three to 12 months – ideal for temporary or project roles.
Retail people
The best thing about working in National Trust Retail is the variety it offers, from meeting visitors to watering plants, there is always something to do, and you have a sense of pride knowing you're helping to protect our special places too. Extremely rewarding.

Working as a Retail Manager for the National Trust has been an amazing opportunity to bring my skills and experience from working on the high street to a unique environment. Our retail shops are directly helping to look after our special places, which feels fantastic knowing we're contributing to preserving them for future generations. Not only are we in beautiful historic locations, our people are passionate, and the products we sell are carefully picked by our team to link to our property and align with our sustainability values.

As a Merchandiser, my role involves working closely with the buyers to develop our strategies for our departments. Currently, I'm working on food, books, souvenirs and stationery, but I've worked on various departments during my five years at the Trust. We make sure that we've got commercial products that fit within our overall retail and Trust strategies. Working with my team, we ensure that we have the right stock levels in the right places at the right time, and monitor performance to maximise the profit we make. It's great to then be able to visit our varied and unique properties knowing that all our hard work makes a meaningful contribution to the protection of these wonderful places for everyone, for ever.

Being a Buyer for our National Trust shops is hugely varied and interesting. In my five years here so far, I've had the opportunity to work across a broad range of product areas which has helped me gain knowledge within areas including garden, home, stationery, and children's products. As we build product ranges each season, we draw on the heritage and nature found at our National Trust places to ensure we inspire our customers with products that reflect spirit of place. That's what makes the job all the more meaningful. Sourcing sustainably and ethically, alongside helping create ranges that tell stories and inspire customers, gives an exciting additional layer to the buying role, alongside collaborating with press, online and retail managers. I've even worked with conservation specialists to help with some products, which was both interesting and educational.