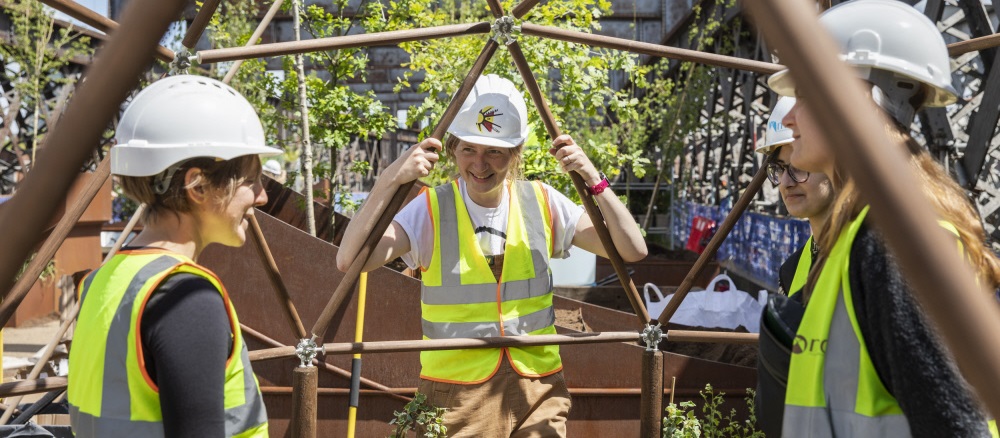 We're bigger than you think, more ambitious than you can imagine and with more variety than you might realise. Every day our project and programme teams are working to conserve our historic houses and gardens, restore our landscapes, and open up access to the places we love for everyone, for ever.
Currently, there are over 250 roles within our growing professional community and our work is critical to the delivery of c. £250m of project investment every year towards our charitable purpose and for public benefit.
Together, we're creating new opportunities for people and nature to thrive, with wetlands and fenlands, dunescapes and riverscapes, green corridors, urban greenspace, events, exhibitions and experiences… and our ambitions don't stop there.
We're leading the delivery of new and improved cafés, car parks, cottages, retail facilities, renewable energy solutions, booking systems and membership platforms.
We're serious about what it means to represent Europe's largest conservation charity. So we make it our business to deliver with an approach that stands up to scrutiny from our stakeholders, and wins the confidence of our partners by taking a professional grip right from the start. We strive to 'make it happen' on time and on cost to standards of which we are proud.
In turn, we look for highly competent people to join us who have a passion for the project and programme profession. For apprentices and early career professionals, that means we look for a drive for delivery and a desire to forge a path in the profession.
For experienced hires, we look for qualified project professionals, with clear communication skills, who can demonstrate that they've led projects through the full lifecycle with excellent results and positive legacies.
If this sounds like you, no matter your background, we'd welcome your application to join the team.
In return, you'll find a thriving and welcoming community that values diversity and inclusivity. We focus on putting people at the heart of project management, and our Centre of Excellence supports a culture of continuous professional development, creating the space for high performing teams across the organisation.
The things we do for you
We want you to learn, discover and develop your career. And we'll do everything we can to offer you the training, support and development that you need to achieve your goals. This could, for example, include helping you to study for a professional qualification appropriate to your career, trying something new or moving into a different business area. We'll work with you to plan your development in a way that's right for your needs.
Investing in you
Induction. Your learning in the Trust starts with your induction. Whatever role you're here to do we'll explain what to expect, show you where to go and make sure you understand your new environment before you get going. 

Personal career progression development programme. One size doesn't fit all when it comes to development. Tailored to you our 'Grow Your Own Career' approach is in place to help you identify where you see your career heading, and the best ways to get there. 
Learning resources. We all learn in different ways and respond to different styles. It's what works for you, whether that's on-the-job training, flexible e-learning or one-to-one support. And in an organisation of our size and diversity, there's plenty of room to develop and places to go.
Future Engage and Deliver leadership programme. If you're in a management role we'll support you to become a better leader through our 'Future Engage and Deliver' leadership programme. The programme is designed to make sure you're well-equipped with the skills and confidence to lead your teams to deliver our plans.
Professional subscriptions. If you need to hold a qualification for your role, from either a legal or professional point of view, we'll cover the cost of your membership fee. We'll need to see that it's part of your continuous professional development, though.
Employee volunteering. Volunteers are the lifeblood of the National Trust and many other charities. That's why we'll give you every opportunity to get involved with some volunteering outside the Trust. It's also a brilliant way to try new things, learn new skills and meet new people. So we'll give you up to five paid days per year to do your bit.
Secondments. Secondments are an excellent way for you to gain and practise new skills in real life situations, preparing you for a potential next career move. They usually last from three to 12 months – ideal for temporary or project roles.
Project and Programme Management people
Stuart

Project Support Coordinator

Projects are all about changing things for the better and I really enjoy playing my part in helping to make this happen. The sense of achievement makes all the planning and groundwork that goes into project delivery so worthwhile. I'm lucky to be able to work with a huge range of highly skilled experts and I'm pretty much guaranteed to learn something new every day.

As a Project Manager, I'm excited by the breadth and depth of the National Trust's work. My favourite thing about my role is providing project management expertise to projects such as Climate Adaptation, that will have a long-lasting impact on the UK as a whole.

Tom

Senior Project Manager

No two days are the same, and I have the privilege to work across a variety of projects from infrastructure to built heritage, community outreach to landscape scale nature conservation. I'm working in an environment that supports continuous growth and professional development and where I feel valued, challenged and inspired in my work. The National Trust is a great place to be a project professional.

Jo

Senior Programme Manager

Every day I get to work with brilliant people, helping to make brilliant things happen that have a real, lasting impact for people and places. The Trust has a wealth of experience and expertise that we're able to channel through an exciting variety of projects and programmes. Add to that the opportunity to work with a whole range of organisations, people and communities, and you have a truly fantastic role that can deliver positive change and meaningful public benefit.