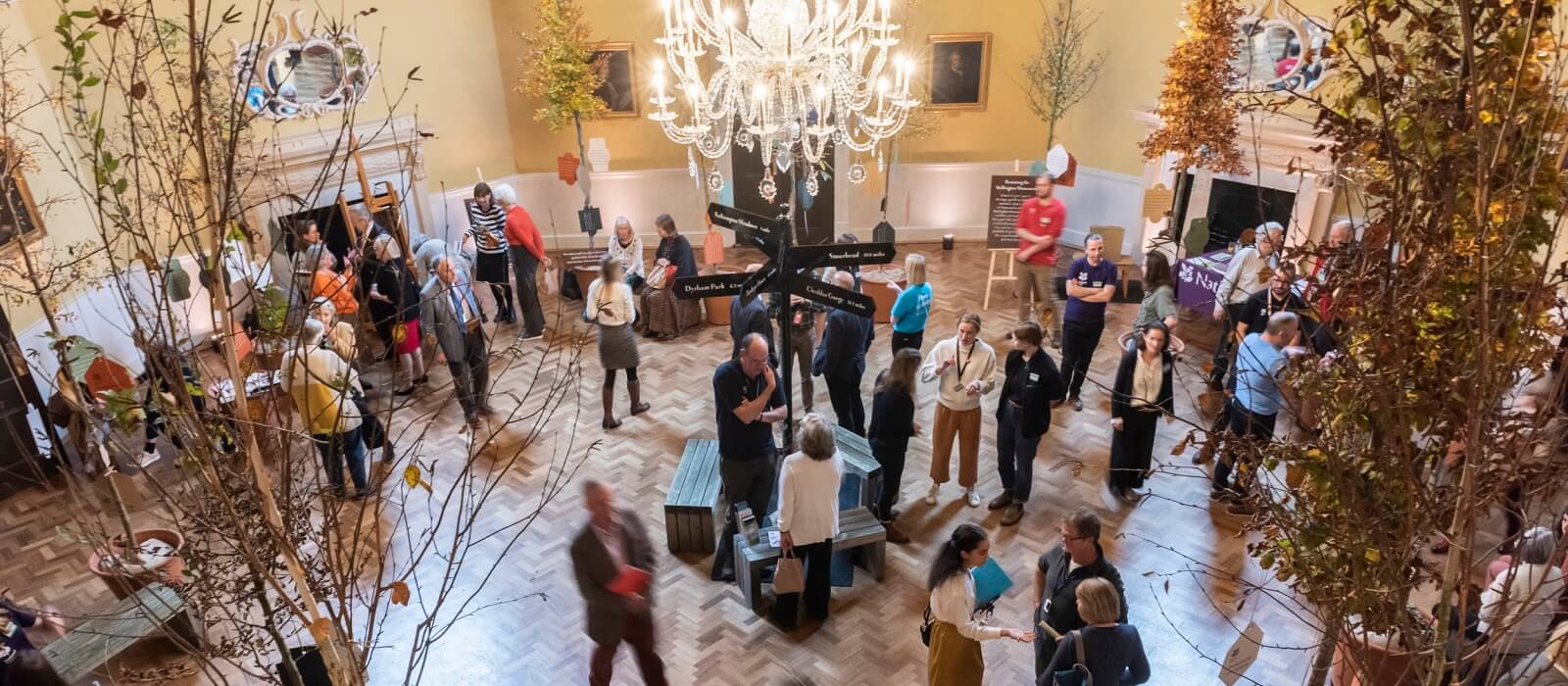 Our work helps everyone here – staff, volunteers, non-executives and other partners – we protect and care for places across England, Wales and Northern Ireland. Helping more people enjoy the history, nature, and beauty of the landscapes around them. As a legal and governance team, we ensure the National Trust remains true to its charitable purposes of looking after places for the benefit of the nation.
We get involved with a wide variety of work from across the Trust, whether it be supporting our visitor operations or commercial teams, working with our Conservation or Let Estate teams, ensuring governance is adhered to through the running of our AGM or working with Trustees and Council members. We're a friendly and welcoming team who supports each other and share ideas and ways of working whenever we can. 
To help us support the Trust, we're focused on making sure our teams have the right expertise and skills they need and that we have the suitable systems and resources in place to make sure we work efficiently and effectively. 
The things we do for you
We want you to learn, discover and develop your career. And we'll do everything we can to offer you the training, support and development that you need to achieve your goals. This could, for example, include helping you to study for a professional qualification appropriate to your career, trying something new or moving into a different business area. We'll work with you to plan your development in a way that's right for your needs.
Investing in you
Induction. Your learning in the Trust starts with your induction. Whatever role you're here to do we'll explain what to expect, show you where to go and make sure you understand your new environment before you get going. 
Personal career progression development programme. One size doesn't fit all when it comes to development. Tailored to you our 'Grow Your Own Career' approach is in place to help you identify where you see your career heading, and the best ways to get there. 
Learning resources. We all learn in different ways and respond to different styles. It's what works for you, whether that's on-the-job training, flexible e-learning or one-to-one support. And in an organisation of our size and diversity, there's plenty of room to develop and places to go.
Future Engage and Deliver leadership programme. If you're in a management role we'll support you to become a better leader through our 'Future Engage and Deliver' leadership programme. The programme is designed to make sure you're well-equipped with the skills and confidence to lead your teams to deliver our plans.
Professional subscriptions. If you need to hold a qualification for your role, from either a legal or professional point of view, we'll cover the cost of your membership fee. We'll need to see that it's part of your continuous professional development, though.
Employee volunteering. Volunteers are the lifeblood of the National Trust and many other charities. That's why we'll give you every opportunity to get involved with some volunteering outside the Trust. It's also a brilliant way to try new things, learn new skills and meet new people. So we'll give you up to five paid days per year to do your bit.
Secondments. Secondments are an excellent way for you to gain and practise new skills in real life situations, preparing you for a potential next career move. They usually last from three to 12 months – ideal for temporary or project roles.
Legal & Governance people
As a Regional Lawyer at the National Trust, I'm responsible for ensuring that my regional clients receive all the legal services they need. This covers a broad range of law – primarily property, since land and buildings are the Trust's core business, but also contracts, commercial, and dispute resolution. In my role, I help the Trust with both its non-contentious legal needs – including land acquisitions, disposals, leasehold transactions, grant contracts, chattel loans, construction contracts – and its contentious legal needs – trespass, neighbour disputes, compulsory purchases, and highways commons restrictive covenants to name but a few. No day is the same and the variety makes the role both very interesting and very challenging.

I love what the Trust stands for and it's important to me that members and supporters feel that the charity is run in a way that fulfils that purpose. Being in the Governance team provides me with the opportunity to help with that. I also get to connect with people across the organisation and can honestly say I am still learning something new every day after five years.

Sofie

Member of Legal Support Team

In my legal support role, I assist in a variety of ways. One day I can be preparing applications to the Land Registry to register a new piece of land the Trust has acquired and the next day, I might be sifting through documents as part of a research task. Much of what I do involves working with the deeds, which are both important legal documents and historic resources that tell a part of the properties' stories. The Legal team provide support across the Trust, and it's interesting and inspiring to see a diversity of projects come to life.

I'm a Legal Manager in the National Trust's in-house Legal team and a qualified solicitor. I lead a team of lawyers as they support and give legal advice to different people across the Trust – mainly to people based in regions and countries. I provide legal advice and support to part of the London and Southeast Region and to the central Finance team. I often work with senior people in the Trust to take forward high profile property transactions and solve complex issues that arise from time to time.

I also work alongside other leaders in the Legal and Governance Directorate to give effect to the National Trust's strategy within the Legal team via the day-to-day work of the Legal team and in the setting of particular objectives and goals each year. I also take forward some of those objectives myself, as well as supporting others in the Legal team. I keep an eye on the evolving legal world outside the National Trust and its potential impact on the National Trust and its work.
Latest Legal and Governance jobs
All our Legal and Governance roles are advertised via the link below.